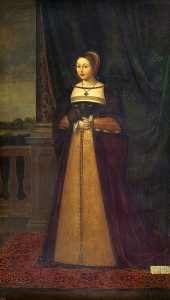 On this day in Tudor history, 3rd March 1528, in the reign of King Henry VIII, Margaret Tudor, sister of Henry VIII and widow of King James IV of Scotland, married for a third time.
Thirty-eight-year-old Margaret's third husband was Henry Stewart, who was about 33. Stewart was the son of Andrew Stewart, 1st Lord Avondale, and he'd served Margaret's son, James V, as master carver and master of the artillery. It is thought that he and Margaret got to know each other in 1524.
Margaret's marriage to her second husband, Archibald Douglas, 6th Earl of Angus, was annulled in 1527 after she had found out that Angus had moved in with a former lover while Margaret had been in England at her brother's court. Rather ironically, her brother, Henry VIII, had opposed Margaret's wish for an annulment. The annulment left her free to marry Stewart, who was made Lord Methven a few months after their marriage.
Unfortunately, the marriage was not happy for long. Margaret had managed to pick another unfaithful husband, so she fought for a divorce, as she had with her second husband. Her son, King James V, however, did not support her cause.
Margaret was able to reconcile with her husband and she died of a stroke at their home, Methven Castle, on 18th October 1541, just over a month before her 52nd birthday.
Here are some videos I've made on Margaret Tudor:
Also on this day in Tudor history...