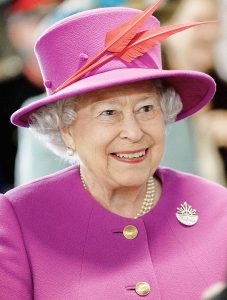 I was shocked and saddened by the news, yesterday, of the death of Queen Elizabeth II. It seems strange to be shocked when she was 96 years of age and her health had been declining in recent months, but I'm British and she's the only monarch I've known. Her image is known the world over and when I lived in the UK, I saw her image and heraldry everywhere and on a daily basis. I can't believe she's gone and that there's a new monarch, King Charles III.
King Charles and his queen consort, Camilla, are due to travel from Balmoral to London today, where he will meet with Liz Truss, the new Prime Minister, before he addresses the nation this evening. It is thought that he will also meet with Edward Fitzalan-Howard, Duke of Norfolk and Earl Marshal. Yes, you read that right! A Howard is still Duke of Norfolk AND Earl Marshal. The Earl Marshal is responsible for organising major ceremonial state occasions, such as funerals and coronations, which of course there are going to be in the coming days and months.
Although the coming days will be sad for many, it will also be interesting to see how Queen Elizabeth II's death is marked - bells tolling, gun salutes, and all the traditions - as well as how the accession of a new monarch is celebrated.
The Queen is dead, long live the King!
RIP Queen Elizabeth II.
You can read my article giving an overview of Elizabeth II's life and reign, along with details of her links to the Tudors and Boleyns by clicking here.