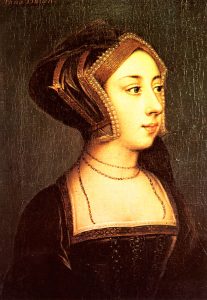 On this day in Tudor history, 13th May 1536, in the reign of King Henry VIII, Queen Anne Boleyn's royal household was broken up and her staff discharged.
The king's second wife, who was imprisoned in the Tower of London at the time, hadn't even been tried yet. However, Sir Francis Weston, William Brereton, Sir Henry Norris and Mark Smeaton had been found guilty of high treason, for sleeping with her and conspiring to kill the king with her, so she had no chance of being found innocent.
Some of Queen Anne Boleyn's staff would soon be back at court serving a new queen, Jane Seymour. These included Anne's former Master of the Horse William Coffin, her former vice chamberlain Sir Edward Baynton, her surveyor John Smith, and her ladies Jane Boleyn, Anne Gainsford, Margery Horsman, and Bess Holland.
Also on this day in Tudor history...