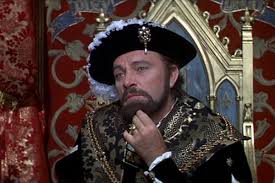 On this day in Tudor history, 15th May 1536, the trials of Queen Anne Boleyn and her brother, George Boleyn, Lord Rochford, took place at the Tower of London.
Unsurprisingly, they were both found guilty of committing incest and plotting to kill the king, and sentenced to death - see video below. But there was some humiliation for the king when George was handed a note about his sister talking to his wife, Jane Boleyn, Lady Rochford, about the king's lack of sexual prowess.
According to Eustace Chapuys, the imperial ambassador, George was warned not to repeat what he read, but instead, he read it aloud in court "in great contempt of Cromwell and some others". George wanted the whole court to know what was going on.
Also on this day in Tudor history...
Image: Richard Burton as Henry VIII in Anne of the Thousand Days.