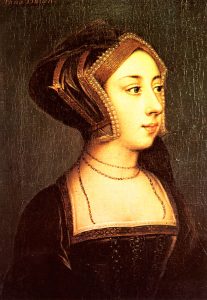 On this day in Tudor history, 2nd May 1536, Queen Anne Boleyn, second wife of King Henry VIII, received a message informing her that members of the king's council required her presence in the council chamber of Greenwich Palace. There, Anne was told that she was being accused of having sexual relations with musician Mark Smeaton, groom of the stool Henry Norris and an unnamed man. She was also told that Smeaton and Norris had confessed.
Anne denied the charges but the council ordered her arrest. Later that afternoon, after the tide had turned, she was rowed to the Tower of London. She was imprisoned in the queen's apartments of the royal palace.
George Boleyn, Lord Rochford, Anne's brother, was arrested on the same day and also taken to the Tower.
Find out more in this video:
Also on this day in Tudor history...