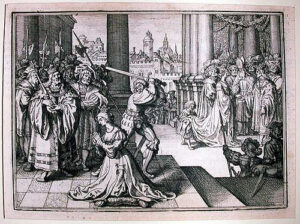 On this day in Tudor history, 19th May 1536, Henry VIII's second wife, Queen Anne Boleyn, was executed at the Tower of London.
Anne had been found guilty of treason for seducing five courtiers, including her brother, George Boleyn, Lord Rochford, and the king's friend and groom of the stool, Henry Norris, and plotting with them to kill the king. The men were executed on Tower Hill on 17th May 1536.
The majority of historians believe that Anne and the men were innocent - most of the dates and places listed in the indictments certainly didn't make sense.
Anne died with dignity and courage, and her final words included "And if any person will meddle of my cause, I require them to judge the best", and many people today share her story and judge the best.
Here is video on this awful day in 1536:
Also on this day in Tudor history...
Image: A German engraving of Anne Boleyn's execution.