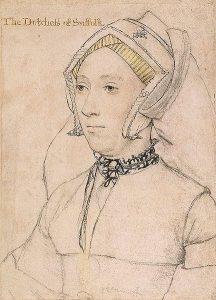 On this day in Tudor history, 19th September 1580, Katherine Bertie (née Willoughby) died after a long illness. She was buried in Spilsby Church, Lincolnshire.
Katherine was known for her Protestant faith and her patronage of Protestant scholars and clergymen, and also for her marriage to Charles Brandon, Duke of Suffolk.
Here are a few facts about Katherine Willoughby:
Katherine was born on 22nd March 1519 and was the daughter and only child of William Willoughby, 11th Baron Willoughby de Eresby, and his wife Lady Maria de Salinas who'd come over to England from Spain with Catherine of Aragon as her maid of honour back in 1501.
Katherine's father died in 1526 and her wardship was acquired by Charles Brandon, Duke of Suffolk, in 1529. Suffolk was Henry VIII's brother-in-law and good friend.
Suffolk's wife, Mary Tudor, died in June 1533 and on 7th September 1533, the forty-nine-year-old duke married fourteen-year-old Katherine.
Katherine and Suffolk had two children together: Henry, born in 1535, and Charles, born in 1537.
In 1536, Katherine acted as the official mourner at Catherine of Aragon's funeral at Peterborough Abbey.
In 1537, Katherine and Suffolk settled at Grimsthorpe Castle in Lincolnshire. Henry VIII wanted Suffolk to be positioned in Lincolnshire following the trouble there during the Pilgrimage of Grace rebellion.
On 22nd August 1545, Suffolk died at Guildford. Katherine inherited a third of her husband's property, while also retaining her own lands, while the couple's eldest son, Henry, inherited two-thirds. Katherine then purchased little Henry's wardship, meaning that she would have control over his lands and marriage prospects.
Katherine embraced the Reformed faith and was part of a circle of reformers who gravitated around Queen Catherine Parr. She also acted as a patron to Protestant scholars and had many works dedicated to her. Her biographer, Susan Wabuda, writes of how Katherine worked with Bishop Henry Holbeach to introduce Protestant men into Lincolnshire livings and that she invited Hugh Latimer to preach at Grimsthorpe.
Katherine was not a fan of Stephen Gardiner, the Catholic Bishop of Winchester. She named her little dog "Gardiner" after the him and was said to have enjoyed calling the dog to heel!
In September 1548, Katherine's good friend, Catherine Parr, the dowager queen, died following childbirth. Then, in March 1549, Catherine's widower, Thomas Seymour, Baron Seymour of Sudeley, was executed for treason. Katherine ended up being given the responsibility of caring for Catherine and Thomas's daughter, Mary, and maintaining her household, something which was a burden to her. Mary disappears from the records around the age of two and is thought to have died.
On 14th July 1551, Katherine lost both of her sons to sweating sickness.
In around 1552, Katherine married her gentleman usher, Richard Bertie. They had two children: Susan, born in 1554, and Peregrine, born in 1555.
In early 1555, in the reign of Queen Mary I, Katherine, her husband and daughter, and household left England to go into exile on the Continent. They returned in 1559 following the accession of the Protestant Elizabeth I.
Katherine petitioned the queen to allow her husband to be named Baron Willoughby de Eresby, but the queen refused.
Katherine hired Bible translator Miles Coverdale as a tutor for her children and also as a preacher, and her faith became more Puritan in flavour.
Katherine died on 19th September 1580 at the age of sixty-one. She was buried at Spilsby Church on 22nd October 1580.
Following Katherine's death, Elizabeth I granted Peregrine the right to call himself Lord Willoughby.
Here is a photo of the memorial to Katherine and her second husband at St James' Church, Spilsby: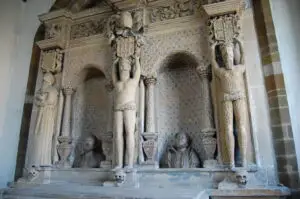 Photo credit: Julian P Guffogg and licensed for reuse under Creative Commons Licence, https://www.geograph.org.uk/photo/2736462.
Also on this day in Tudor history...
Notes and Sources
Wabuda, S. (2008, January 03). Bertie [née Willoughby; other married name Brandon], Katherine, duchess of Suffolk (1519–1580), noblewoman and protestant patron. Oxford Dictionary of National Biography. Retrieved 18 Sep. 2023, from https://www.oxforddnb.com/view/10.1093/ref:odnb/9780198614128.001.0001/odnb-9780198614128-e-2273.