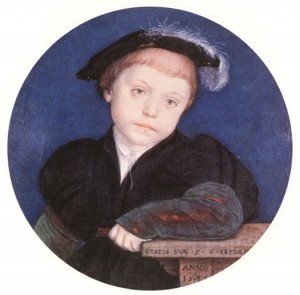 On this day in Tudor history, 18th September 1535, in the reign of King Henry VIII, Henry Brandon, 2nd Duke of Suffolk, was born.
Henry would not have a long life, dying at the age of fifteen from sweating sickness.
Here are a few facts about Henry Brandon:
Henry was the eldest son of Charles Brandon, Duke of Suffolk and King Henry VIII's good friend, and Catherine Willoughby, daughter of William Willoughby, 11th Baron Willoughby de Eresby, and his second wife, María de Salinas.
His father died in August 1545 and his wardship was granted to his mother.
Henry was educated at court with Henry VIII's son and heir, Prince Edward, under the tutelage of Richard Cox, John Cheke and Roger Ascham.
In 1547, at the coronation of Edward VI, Henry and his younger brother Charles were knighted. Henry also had the job of carrying the orb.
Historian S.J. Gunn writes that little Henry "was active at Edward's court, revelling with the king in March 1547, running at the ring in May 1550, and dressing up as a nun in a masque in June."
In 1549, Henry began his studies at St John's College, Cambridge.
In 1550, as part of the terms of the Treaty of Boulogne, Henry was sent briefly to France as a hostage.
A marriage between Henry and Anne Seymour, daughter of Edward Seymour, Duke of Somerset, was suggested in 1550, but it came to nothing as his mother was not keen on the idea.
In the summer of 1551, sweating sickness struck Cambridge. Henry's mother ordered the removal of Henry and his brother Charles to Buckden in Huntingdonshire, to the home of the Bishop of Lincoln. Sadly, the boys came down with the sweat. Both died on 14th July 1551, with Charles surviving Henry by just half an hour.
Henry and Charles were buried together privately at Buckden. On 22nd September 1551, a special requiem mass, "A Month's Mind", was celebrated. John Strype writes that "it was performed with two standards, two banners, great and large, ten bannerols, with divers coats of arms; two helmets, two swords, two targets crowned, two coats of arms; two crests, and ten dozen of escutcheons crowned; with lamentation that so noble a stock was extinct in them."
Gunn notes that the boys' piety, virtues and learning were praised by their former tutors and scholars. He goes on to write, "Wilson, who had tutored them, also chose them as the subjects of his exemplary oration of praise in The Arte of Rhetorique (1553). Even allowing for the conventions of such works it seems that they were young men of considerable promise whose loss was keenly felt."
Also on this day in Tudor history...
Notes and Sources
Gunn, S. (2015, May 28). Brandon, Charles, first duke of Suffolk (c. 1484–1545), magnate, courtier, and soldier. Oxford Dictionary of National Biography. Retrieved 15 Sep. 2023, from https://www.oxforddnb.com/view/10.1093/ref:odnb/9780198614128.001.0001/odnb-9780198614128-e-3260.
Image: A miniature of Henry Brandon, 2nd Duke of Suffolk, by Hans Holbein the Younger.