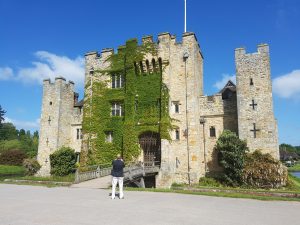 After a night of not much sleep at all - I was too excited to sleep! - we enjoyed a lovely breakfast in the Astor Wing of Hever Castle before having free time to enjoy the gardens and castle. I love walking through the gardens before the public arrives because I can pretend that I am the lady of the manor.
The gardens just cannot be described in words. I cannot do them justice. They are breathtakingly beautiful. I did a couple of Facebook Live videos from the gardens and I hope my excitement and pure joy shone through, I was very excited. Then, I got even more excited because I visited the Hever Castle gift shop to find a display of my books. The staff were kind enough to allow me to take lots of selfies with my books. I also signed the copies they had so that they could sell them as signed copies. Seeing my books on sale in the shop of the Boleyn family home was truly a dream come true, one of those "pinch me" moments.
After a browse around the gardens, I met up with some of the group to enjoy a sandwich and a Pimms (a Pimms at Hever, how cultured is that?!), before heading back to the Astor Wing for a wonderful talk on Tudor costume, hygiene and cosmetic from historian, Tudor costume expert, re-enactor and costumer Bess Chilver. Bess's husband Edmund was dressed as Henry VIII, complete with codpiece, and Bess dressed up two of our group - Katie in 1530s costume and Rebecca in Elizabethan costume. We then, of course, took photos of Katie and Rebecca in their costumes with the castle in the background. This just had to be done!
Then, it was time to freshen up before meeting in the Astor Wing music room to be taken over to the castle for a drinks reception and private guided tour. We were met at the drawbridge by the wonderful Owen Emmerson dressed as Henry VIII and then we enjoyed a glass of prosecco (or orange juice) while having photos taken with Henry, before being given a guided tour of the interior of the castle. This was very special because it is obviously closed to the public in the evening, so we had it all to ourselves - bliss!
The perfect day was finished by a three-course dinner in the Astor Wing accompanied by lots of Tudor talk. It was a fun evening. I exchanged Anne Boleyn information for advice on how to pronounce Canadian place names in a Canadian accent and blow-your-mind information on asparagus and genes. Brilliant!
The group is lovely. I am having a blast and I am feeling so blessed that I am in my favourite place in the world with like-minded people who are sooooo lovely. I just can't put into words my joy. I am loving this tour!
I have taken so many photos, and I will share them with you when I get back, but here are just a few from today as taster....
Gardens:
Edmund, Rebecca and Katie:
Hever Castle (just a few for now, more coming when I get back!):
I also visited St Peter's Church, Hever, to pay my respects to Thomas Boleyn and little Henry Boleyn, and I will share photos of that visit soon.