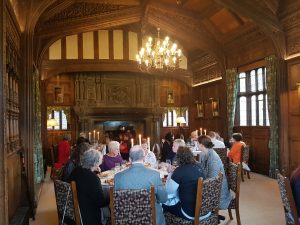 It's 1.15am as I write this, that's how much fun I'm having. I'm buzzing! Let me tell you all about my day.
I travelled to London Victoria this morning and after having a Marks and Spencer's lunch, I met up with my fellow tour guide, Philippa, and tour participant, Jodee, before meeting the rest of the group near Victoria. We then had fun [sarcasm] fighting our way through London traffic on the coach before reaching the lovely tree-lined lanes of Kent, aptly named the Garden of England. I would not want to be a coach driver navigating my way down those lanes!
We arrived at Hever Castle [a squeal of excitement might have come out of my mouth at this point] and were shown to our beautiful rooms, each one uniquely furnished and decorated. They are lovely. You can just see the upper part of the castle through my leaded windows. We had time to freshen up before meeting for pre-dinner drinks. We then had a delicious barbecue. I'm a vegetarian and my quinoa burgers were to die for, so good! And the salad bar was great.
Then, it was time for our talk from historian Gareth Russell, author of A History of the English Monarchy and Young and Damned and Fair: The Life and Tragedy of Catherine Howard at the Court of Henry VIII. The subject of Gareth's talk was "Anne Boleyn: A Profile in Brittle Brilliance" and it was excellent. Gareth was so engaging, so witty, so knowledgeable - just perfect for our first night. Most of the group then retired, being tired after their travels to get to London, but a few of us stayed up chatting in the music room. It's so good to talk Tudor without people's eyes glazing over!
We have a lovely group. Some are past tour participants, so it was wonderful to see them again and catch up, and others are new and it's great to meet them. I just know that this tour is going to be a magical experience for us all.