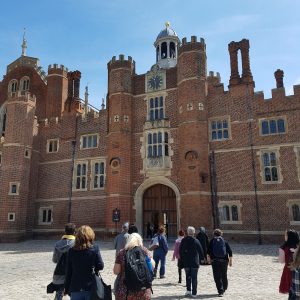 Hello! Apologies for not posting this yesterday, but it was a very busy day and I was just too tired to write this in the early hours of this morning.
We are having a fantastic time. Lots of "pinch me, am I really here?" moments. Yesterday, after a delicious breakfast, we made our way by coach to Hampton Court Palace, that stunning Renaissance-style palace that Henry VIII pretty much stole from Cardinal Wolsey. OK, Wolsey gave it to him, but what do you say when the king notices that your palace is way better than any of his?!
Siobhan, our wonderful costumed guide, took us around the Tudor parts of the palace, as those were our focus, before we had free time to explore and have lunch. Hampton Court Palace is just stunning and there is so much to see, and, of course, the gift shop. Tour participant Kristen is completely to blame for my jewellery purchase (a B ring!) and Philippa just made my buy a B clutch bag/make-up bag. I really wasn't responsible for those purchases and cannot take the blame!
Then it was time to return home, oops, I mean Hever! But then it feels like home! It is so magical and I just go around sighing contentedly. After a very yummy three-course dinner and wine, we had an excellent guest speaker, although she was a bit nervous. Ha! It was me. I spoke on the other victims of May 1536 - the five men, and also Thomas Wyatt and Richard Page, and the families who lost loved ones and their income from the events of those "bloody days". I did get rather choked up but our lovely group bore with me and let me talk for rather a long time. Some of us then retired to the music room to "talk Tudor"
I have so many photos of our day, but I will have to share those when I return home. Hopefully, these will be enough to keep you going at the moment.