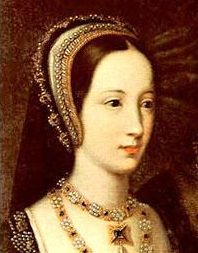 On this day in history, 25th June 1533, Mary Tudor, Queen of France, sister of King Henry VIII and wife of Charles Brandon, Duke of Suffolk, died at her home of Westhorpe Hall in Suffolk.
Mary had been born on 18th March 1496 at Richmond Palace and was the youngest surviving child of King Henry VII and Elizabeth of York. She was renowned for her beauty, being described by the Venetian ambassador as "a Paradise - tall, slender, grey-eyed, possessing an extreme pallor", and her motto was La volenté de Dieu me suffit (The will of God is sufficient for me). In 1507, Mary was betrothed to Charles of Castile (the future Charles V Holy Roman Emperor), and their wedding was planned for 1514. However, the betrothal was cancelled due to Henry VIII's diplomatic dealings and, much to Mary's horror, she was betrothed instead to the fifty-two-year-old King Louis XII of France, a man thirty-four years her senior, as part of Cardinal Wolsey's peace treaty with France.
Mary married King Louis XII of France in the great hall of the Hôtel de la Gruthuse, the King's residence in Abbeville, on 9th October 1514 when she was just eighteen, but the marriage was short-lived, with the King dying just a few months later, on 1st January 1515. Mary had been in love with Charles Brandon, Duke of Suffolk and a great friend of Henry VIII, and before her marriage to Louis XII, she had made her brother promise that if she married the French King and outlived him, that she could choose her next husband. Mary was kept isolated from men for six weeks at the Palais de Cluny to see if she was carrying the heir to the French throne, but then her real love, Charles Brandon, was sent to France to escort her home. Mary and Charles Brandon took a huge risk by secretly marrying in France without the King's permission, something which could be classed as treason. Henry VIII was furious but his love for his favourite sister and his friendship with Brandon led to him forgiving the couple, and they were officially married at Greenwich Palace, 13th May 1515. Although she was now the Duchess of Suffolk, Mary was still referred to as the "French Queen".
Mary had four children by Charles Brandon, the Duke of Suffolk, but only two daughters, Frances and Eleanor, survived childhood. Frances married Henry Grey, Marquis of Dorset, and was the mother of Lady Jane Grey. Eleanor married Henry Clifford, the 2nd Earl of Cumberland.
Mary was survived by the duke and their children: Frances, Eleanor and Henry, although Henry died in March 1534. Suffolk remarried just three months later, marrying his ward, Katherine Willoughby, who had been betrothed to his son Henry.
It is not known what killed Mary and theories include angina, tuberculosis and cancer. In 1520, the duke had written to Cardinal Wolsey of Mary being bothered by "her olde dissesse in her side", but it is impossible to know if this was linked in any way to her death thirteen years later. Mary was buried first at the local abbey in Bury St Edmunds, Suffolk, but when the abbey was dissolved her remains were moved to St Mary's Church, Bury St Edmunds.
(Based on an extract from On This Day in Tudor History by Claire Ridgway.)
Further Reading