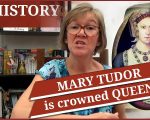 On this day in Tudor history, Sunday 5th November 1514, eighteen-year-old Mary Tudor, sister of King Henry VIII and daughter of the late King Henry VII, was crowned Queen of France at Saint-Denis.
Mary had become Queen of France on her marriage to King Louis XII on 9th October 1514.
In today's talk, I share what we know of Mary Tudor's coronation from the contemporary sources.
[Read More...]