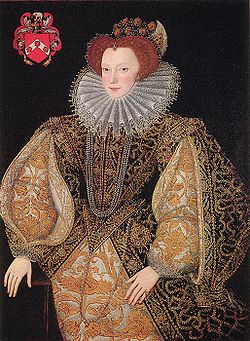 Lettice Knollys was born on 8 November 1543 at Rotherfield Greys in Oxfordshire. She was the third of fourteen to sixteen children born to Sir Francis Knollys and his wife, Katherine Carey.1 Lettice's mother was the daughter of Mary Boleyn, meaning that Lettice was the great niece of Anne Boleyn. She was also a kinswoman of Elizabeth I. Francis and Katherine Knollys departed for the Continent in the mid-1550s to escape the religious persecution during Mary I's reign, but it is possible that Lettice remained with Elizabeth Tudor at Hatfield. When Elizabeth came to the throne in 1558, Francis was appointed vice-chamberlain and Katherine, who was close to the queen, was appointed a lady of the bedchamber. Lettice, now in her teens, served as a gentlewoman of the privy chamber.
At the end of 1560, the beautiful and charming seventeen-year-old Lettice was married to Walter Devereux, Viscount Hereford. Their family seat was at Chartley Castle in Staffordshire, and it was here that Lettice gave birth to their daughters, Penelope and Dorothy. Three other children soon followed. In 1565, she gave birth to Robert, later second Earl of Essex and a great favourite of the queen until his execution in 1601. In 1572, Lettice's husband was elevated to the earldom of Essex, and he departed for Ireland the following year in an attempt to plant Englishmen in Ulster. He remained there until 1575, returning to England the following summer before again departing for Ireland, dying in Dublin on 22 September, probably of dysentery.
Even before the death of Essex, there were rumours of an amorous liaison between Lettice and the queen's favourite Robert Dudley, Earl of Leicester. Antonio de Guaras reported in late 1575 that Essex had learned that Lettice had given birth to two children by Leicester during his residency in Ireland. These rumours were false, but two years after Essex's death, in September 1578, Lettice married Leicester at Wanstead House in Essex. Humphrey Tyndall, the officiating chaplain, reported that Lettice had worn a 'loose gown', which has given rise to speculation that she was pregnant on her wedding day. It has even been claimed that the secret pregnancy compelled the two to secretly marry at Kenilworth in the spring of 1578. These theories have been undermined by historian Retha Warnicke, and there is no evidence that Lettice was with child on the day of her wedding. She had enjoyed good relations with Leicester for several years prior to their marriage. In 1573, the earl had sent deer to her from Kenilworth Castle in Warwickshire, and Lettice hunted there with her sister Anne the following year. In 1575, Lettice was present at Kenilworth when Elizabeth I visited on progress. The earl, however, wished to keep his marriage to Lettice secret from the queen. When she was informed of the marriage, Elizabeth's fury resulted from the belief that Leicester was already married to Douglas Sheffield.
On 6 June 1581, the countess gave birth to a son, Robert, at Leicester House. Depositions by witnesses to the wedding had been made before a notary that spring, to confirm the legitimacy of Lettice's as yet unborn child. Leicester House had become the countess' principal residence by 1584. Her permanent residence there may have fuelled the queen's discontent. Scurrilous reports claimed that Lettice attired herself as a queen, and allegedly Elizabeth expelled her cousin from court for daring to outdo her. It was also reported that Leicester was attempting to marry Lettice's daughter Dorothy to James VI of Scotland (later James I of England), provoking the anger of Elizabeth. The queen apparently refused to countenance the notion that the Scottish king would marry the daughter of the 'she-wolf' Lettice. Leicester's Commonwealth, a highly damaging and heavily fictionalised account of the earl's career, also claimed that Leicester was planning to marry his son to Arbella Stuart, the niece of Mary Queen of Scots. Whether these stories have any basis in fact is uncertain.
In 1584, their son Robert died at the age of three, and extant correspondence indicates that the couple were deeply grieved by the loss of their heir. Robert's death was not merely a personal tragedy, however; at the age of forty-four, Lettice was unlikely to bear any more children. The earl and countess continued to be troubled by reports of the queen's anger. Elizabeth's hostility was roused when she learned of rumours that Lettice would join her husband in the Netherlands in 1586 with a great train of ladies. In September 1588, Leicester died at Cornbury House in Oxfordshire, with his wife at his bedside. His funeral took place in Warwick the following month, but whether Lettice attended is unknown. She was provided for generously in her husband's will, and her combined jointures from her two husbands provided her with a yearly income of £3000, as well as £6000 worth of plate and household furniture. Despite her wealth, the countess was troubled by inheritance battles, as well as in trying to settle Leicester's debts. Paying off his debts meant that she was compelled to sell off a large part of her jointure, including Leicester House.
A year later, Lettice remarried. Her husband was the soldier Sir Christopher Blount, a man twelve years her junior. Gossip circulated that she had poisoned Leicester, and it was also claimed that she had commenced an adulterous liaison with Blount during her second marriage. Despite the earl's death, the queen appears to have remained hostile to Lettice. In 1595, the countess retired to Drayton Basset in Staffordshire, refusing to return to court unless she was reconciled with Elizabeth. In 1599, Lettice returned to London when her son Robert Devereux was imprisoned. She interceded for his release and purchased an expensive gown for the queen as a gift, but Elizabeth refused to receive the gown when she was confronted with an unsavoury letter penned by Lettice's daughter Penelope Rich. Lettice was in residence at Drayton Basset when she learned of the executions of her son and husband in February and March 1601 for treason.
The death of Elizabeth I two years later had initially favourable consequences for Lettice, because her daughter was on good terms with James I's queen, Anne of Denmark, and the king restored the Essex lands to Lettice's grandson Robert Devereux, third Earl of Essex. James also waived the remainder of Leicester's unpaid debts. In 1604, the countess filed a complaint against Sir Robert Dudley, claiming that he had defamed her by challenging the legitimacy of her marriage. Dudley had attempted to prove that he was Leicester's legitimate son, an assertion that threatened deeming her marriage to Leicester bigamous and the overturning of her jointure. The following year, it was declared that her marriage to Leicester had been good and valid, and the evidence supplied by the countess – including fifty-six witness depositions – confirmed that the earl had never considered Dudley his legitimate son.
Lettice continued to enjoy good health and outlived several of her children, including Penelope and Dorothy, who died in 1607 and 1619 respectively. Her grandson Essex continued to visit her at Chartley and Drayton Basset, including every winter. On 25 December 1634, at the age of ninety-one, Lettice died at Drayton Basset and was buried alongside Leicester at St. Mary's, Warwick, the following February.
Written by Conor Byrne, author of Katherine Howard: A New History and Queenship in England: 1308–1485 Gender and Power in the Late Middle Ages. Conor is a British graduate with a degree in History from the University of Exeter. Conor has been fascinated by the Tudors, medieval and early modern history from the age of eleven, particularly the lives of European kings and queens. His research into Katherine Howard, fifth consort of Henry VIII of England, began in 2011-12, and his first extended essay on her, related to the subject of her downfall in 1541-2, was written for an Oxford University competition. Since then Conor has embarked on a full-length study of Queen Katharine's career, encompassing original research and drawing on extended reading into sixteenth-century gender, sexuality and honour. Some of the conclusions reached are controversial and likely to spark considerable debate, but Conor hopes for a thorough reassessment of Katherine Howard's life. Conor runs a historical blog which explores a diverse range of historical topics and issues. He is also interested in modern European, Russian, and African history, and, more broadly, researches the lives of medieval queens, including current research into the defamed 'she-wolf' bride of Edward II, Isabella of France.
Conor is currently studying for a Masters.
Notes and References
Lettice is often referred to as the eldest Knollys child, but Sir Francis Knollys listed the births of his children in the family Latin dictionary and lists Lettice as their third child. He lists fourteen children, but the plaque on his wife's tomb states that she had sixteen children and this plaque was done before the death of Sir Francis Knollys so should have been correct. See "Sir Francis Knollys's Latin dictionary: new evidence for Katherine Carey" by Sally Varlow, which is available at http://onlinelibrary.wiley.com/doi/10.1111/j.1468-2281.2007.00400.x/abstract or http://www.philippagregory.com/documents/OnlinearticleinHistoricalResearch_001.pdf