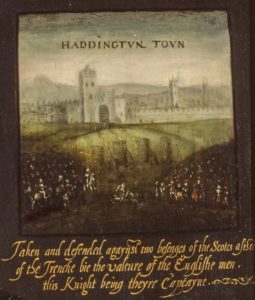 Haddington, East Lothian, Scotland - March 22 2021
The Siege of Haddington Research Group (SHRG) and The Tudor Society are looking for the lost plans of the Scottish town of Haddington. The plans of the 16th-century fortress are needed to help build a virtual model of the burgh and to locate the archaeology relating to the great siege. The two communities are searching for people who may know more about the fate of the plans lost in the archives after the siege.
In an online article, SHRG Project Coordinator and Battlefield Archaeologist, Jon Cooper wrote: "What is annoying is that we have found plans for many of the other forts built during the campaign in the Belvoir House Collection, but Haddington is not among them." The 16th-century fortress was Scotland's first 'Trace Italienne' fort that was built. These could be quickly built and repaired when damaged and were known for their versatility and resilience.
Haddington was a state-of-the-art fortification but has now all but disappeared from the landscape. In an old portrait of Sir James Wilford, the west part of the fortress can clearly be seen in the top right corner. The accuracy of the painting remains unclear. Investigations to date have been unable to locate one of the many engineering plans known to have been drawn up during the time of the War of the Rough Wooing. Many were circulated around the royal courts of France and England to illustrate the progress of the siege.
So, archivists, historians and enthusiasts, please take up the challenge and help find these missing plans. They could well be in your collection.
Links
If you find one or any other clues as to their whereabouts or seek more information please visit: https://www.facebook.com/SHRG1548 or www.tudorsociety.com ([email protected])
Related keywords
Haddington
Siege of Haddington
Trace Italienne fort
Haddington plans
Haddington history