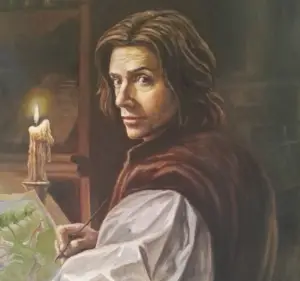 A big thank you to historian and historical novelist Toni Mount for joining us here on the Tudor Society today on her blog/book tour for her latest novel, The Colour of Evil. You can find out more about her book here.
An interview with Seb Foxley, artist, scrivener and amateur sleuth of Paternoster Row in the City of London; hero of The Colour of … series of medieval murder mysteries.
Good day to you, Master Sebastian Foxley. Your latest adventure, The Colour of Evil, has just been published. How does it feel being somewhat of a celebrity these days?
I fear, good sir, I know not of what you speak. A celebrity, you say? Well, if by that you mean one who celebrates, then indeed we did celebrate not so long since when King Edward IV himself paid us a goodly sum for a work he had commissioned from us.
Ah, well, then, rather than discuss your fame, perhaps you could tell our readers of your childhood. Your family came from Norfolk, I believe.
'Tis true indeed, sir. I was born in the village of Foxley in Norfolk, somewhat to the west of Norwich. My father brought us – my brother Jude and me – to London after our mother died. I was but a tiny babe and have no memories of that time. Our father took the name 'Foxley' when he came here, forsaking the name 'Armitage' by which he had been known afore. He was a stationer, trained in Norwich, and purchased his citizenship of London that he might work here and set up a workshop.
Can you tell us of your earliest memory?
I can recall sitting 'neath the desk at which my father worked, drawing with crumbs of charcoal on any scrap of paper I could find. I even drew on stool seats, flag-stones and the pale surfaces of split logs for the fire. At about four years of age, I drew a cat upon the back of a folio my father had worked on painstakingly to go into a Book of Hours of the Virgin. He was not best pleased with me for that but graciously admitted my simple childish drawing had merit.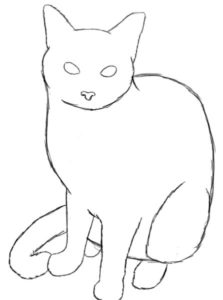 What of your education?
My father schooled me at home. My brother attended St Paul's Song School and then the Grammar School but I was not allowed there.
Why was that?
[SIGHS] Forwhy, sir, I was not as other children. I was malformed at shoulder and hip upon my left side particularly. My back appeared bent because of it and my steps uncertain and lame. I was accounted a cripple, mocked and reviled. There was no place for such a one in school. It was as though they feared my ungainly body was a contagion that the healthy lads might catch. I suppose I would have been a distraction, to say the least.
And yet you served an apprenticeship. Tell us about that.
By the age of twelve, my father had taught me how to read, write and account as well as much of what he knew of the scrivener's and stationer's craft – how to compose a fair page, make ink, match up catchphrases, stitch and bind folios. But he had long realised my talent for drawing would serve me well if I learned the art of illumination also – devising miniatures to illustrate books and learning the preparation and use of pigments and gold leaf… that kind of knowledge. Thus my father found me a goodly master who could teach me such things, paying an additional sum that my, er, physical difficulties might be overlooked. Master Richard Collop, now Warden-Master of the Stationers' Guild, agreed to take me as his apprentice. Allowing for my lack of years compared to other lads beginning their term, I was to continue to live at my father's house but the walk to Master Collop's workshop was not over long, even with my lame steps. I took my meals there with my fellows and Mistress Collop was ever the kindest…
Did you enjoy your apprenticeship there?
I relished the work, doing all I could to please my master and be a credit to both him and my father. I learned apace and was ne'er distracted from my tasks as my fellows were so often. My diligence earned me praise from my master, who repaid the additional sum to my father, declaring I earned my place on merit. I regret to say my peers thought otherwise. They mocked me as a cripple and even more so as a Jack-ever-do-well, completing my work all eagerly and being dutiful to my master and mistress with such good heart. The knavish tricks they played upon me be less than joyous memories. This was one of the idle 'prentices at Master Collop's place, Guy Linton by name, who knew not that I drew him.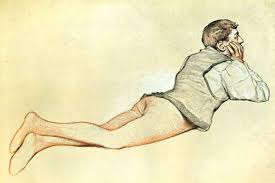 So, what happened when your apprenticeship was completed?
In truth, my term ended after just five years, due to the skills my father had taught me beforehand and my eagerness to learn from Master Collop. Thus, I was but seventeen years of age – not one-and-twenty as most new journeymen – when I was first at liberty to earn a wage. I worked for Master Collop for a while as a journeyman but his workshop was overcrowded, what with those he employed already and new apprentices taken on after me. Then I spent a few months assisting my father's friend at his small workshop at the sign of the Angel. I found this sketch I did of the place in Amen Lane, beside St Paul's.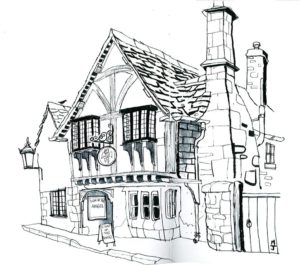 But then Jude showed some of my work to his employer, Matthew Bowen in Paternoster Row, who realised my possible worth to his workshop.
How long did you work there?
We both served as Matthew Bowen's journeymen until he was murdered. It was a momentous time for Jude and me forwhy my brother was accused of Bowen's murder and I had to prove his innocence. So much happened then… I received a commission from Lord Richard, Duke of Gloucester, the king's brother, and fell in love with Emily Appleyard, my dearest wife of late but cherished memory. Then Almighty God, in His bounteous mercy, saw fit to bestow a miracle upon me, healing my crooked shoulder and greatly restoring my malformed hip that I may walk much as other men. If you would know more, books have been written concerning my life since then.
I shall recommend them to readers and you now have your own website and online presence, don't you?
What? Books I know, sir, but what is this website you say I own? I can assure you that due to dearest Rose's diligence, our house be not the site of any cobwebs whatsoever. Why do you speak in riddles, I cannot understand? And as for online presents, we do indeed give gifts upon occasion. But why would we hang them on a line unless they be tapestries or portraits for show?
I'm talking about putting information online.
Ah! I have it. You refer to Master William Caxton's dubious new craft of printing. I hear he has to drape his printed pages along a string like so much wet linen whilst the ink dries. Be that the on-line information you mean, sir? 'Twould be difficult to read it in such a manner. We scribes have no need of such foolishness as treating words like so much laundry on a wet Monday morn. Our ink and pigments dry right swiftly.
Forgive me, Master Foxley. Let me rephrase my question. What is it like to have a reputation across London and Westminster for solving murders when the bailiff, constables and coroners fail to do so?
Aye, I believe I have acquired such a reputation but 'tis not one I have sought. 'Tis quite the millstone to weigh upon me. I would rather be known for my skills as an artist and illuminator and the proprietor of a workshop of some renown. I painted a true likeness of His Grace, Lord Richard, Duke of Gloucester some little while since. He liked it well, I believe, and has graciously made the name of Foxley known to others, including the king. If our work continues to increase apace, mayhap, I shall be looking to enlarge our workshop and take on another journeyman and a second apprentice, at the least. What a fine thing that would be for the future... Here is my self-portrait, a practice-piece only to further my skills and that you may recognise me, you understand, and not at all for vanity's sake.
Thank you, Master Foxley. This interview has been most illuminating. Readers may like to know that his adventures in fifteenth-century London have appeared in the following books from MadeGlobal, penned by Mistress Toni Mount –
The Colour of Poison; The Colour of Gold [a short story]; The Colour of Cold Blood; The Colour of Betrayal [a novella]; The Colour of Murder; The Colour of Death [a novella]; The Colour of Lies; The Colour of Shadows and now Seb's latest adventure, The Colour of Evil is available in Kindle and paperback. Order now at http://getbook.at/colour_of_evil
[The portrait of Seb Foxley is in the author's possession, painted by Dmitry Yakovsky [Dec 2018].]i
Blurb for The Colour of Evil: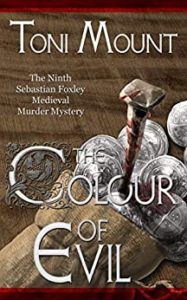 Every Londoner has money worries. Seb Foxley, talented artist and some-time sleuth, is no exception but when fellow indebted craftsmen are found dead in the most horrible circumstances, fears escalate. Only Seb can solve the puzzles that baffle the authorities and help Bailiff Thaddeus Turner to track down and apprehend the villains.
When Seb's wayward, elder brother, Jude, returns, unannounced, from Italy with a child-bride upon his arm, shock turns to dismay as life becomes more complicated and troubles multiply.
From counterfeit coins to deadly darkness in the worst corners of London, from mysterious thefts to attacks of murderous intent – Seb finds himself embroiled at every turn. With a royal commission to fulfil and heartache to resolve, can our hero win through against the odds?
Share Seb Foxley's latest adventures in the filthy streets of medieval London, join in the Midsummer festivities and meet his fellow citizens, both the respectable and the villainous.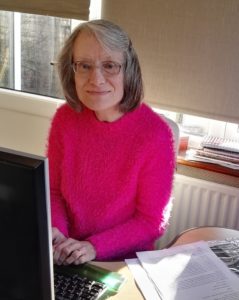 Toni Mount earned her Master's Degree by completing original research into a unique 15th-century medical manuscript. She is the author of several successful non-fiction books including the number one bestseller, Everyday Life in Medieval England, which reflects her detailed knowledge in the lives of ordinary people in the Middle Ages. Toni's enthusiastic understanding of the period allows her to create accurate, atmospheric settings and realistic characters for her Sebastian Foxley medieval murder mysteries. Toni's first career was as a scientist and this brings an extra dimension to her novels. It also led to her new biography of Sir Isaac Newton. She writes regularly for both The Richard III Society and The Tudor Society and is a major contributor of online courses to MedievalCourses.com. As well as writing, Toni teaches history to adults, coordinates a creative writing group and is a member of the Crime Writers' Association.
Find out more at:
www.tonimount.com
www.sebastianfoxley.com (Seb's own website)