What you get as a Tudor Society member
A growing collection of over 358 hours of Tudor focused videos and currently including ALL 89 magazine back issues
Whether you're an experienced historian, a life-long history fan or even if you're just starting out, you'll always find something new with your membership. The Tudor Society is a vibrant community of history lovers. It's not just a website, it has a huge live component where you can chat with other members, and authors and historians.
Enjoy Tudor Experts sharing their knowledge and chat to them in real-time
Every month the Tudor Society features the best names in Tudor history, connecting Tudor history fans to experts, all from the comfort of your own home. Ask your questions in real-time and have them answered immediately and enjoy 104 talks already online.
Here are the latest expert talks...
Tudor Life Magazine - completely dedicated to Tudor history
No more flicking through history magazines trying to find the Tudor bit. Monthly Tudor Life Magazine is ALL about the Tudors. Members get access to all the back issues going back to 2014, that's 89 magazines to enjoy right now.
Here are the latest magazine covers...
What is the Tudor Society?
With members from all around the globe, including the USA, Canada, Europe, UK and Australia, the Tudor Society was founded in 2014 and has quickly become the go-to place for Tudor enthusiasts because of the high quality of the unique articles, the Tudor focused magazines, and the experts it attracts.
Our members have access to absolutely everything on the website, currently including 89 magazine back issues, over 358 hours of video and all of our 104 monthly expert lectures and 385 weekly quizzes. We add one expert lecture a month, one full magazine a month, and have two live chats a month too. You can even download our magazines as PDF files to enjoy offline wherever you are.
Connect to an ever growing list of articles, videos and quizzes on your computer or mobile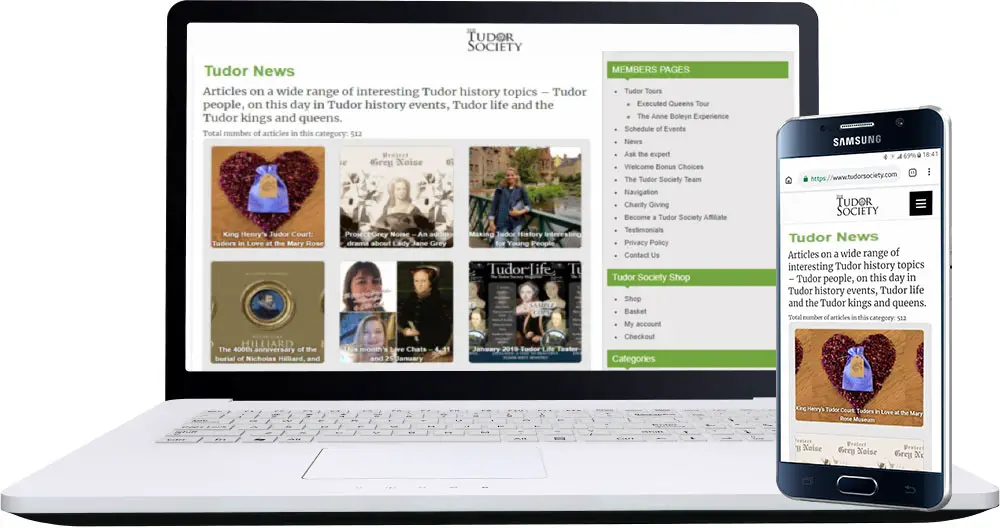 Your journey to the past starts here...