Last week a great discovery was made. Shakespeare's bust, which stands in Holy Trinity Church, Stratford-upon-Avon, appears to be a good likeness of the playwright, poet and actor. Research finds that the bust was made by tomb-maker Nicholas Johnson.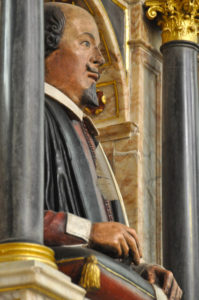 Shakespeare's bust © Lewis Clarke (cc-by-sa/2.0)
The outcome of the research is special, because quite often, a portrait or bust is not a correct reflection of that person. For example, the Streatham Portrait, which is supposed to show Lady Jane Grey, is probably not her at all. The same can be said about one of the two portraits of William Shakespeare. The famous Cobbe portrait is thought to have been a painting of courtier Sir Thomas Overbury.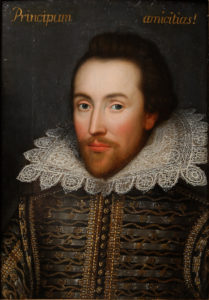 The Cobbe portrait
The effigy above Shakespeare's grave, was commissioned by the poet himself. The sculptor who made the bust actually knew the playwright, so he would have been able to make a good likeness. If you want to admire the sculpture and see it for yourself, you can visit the Holy Trinity Church in Stratford-upon-Avon. 
Information from The Guardian.
Find out more about William Shakespeare's resting place in this article - https://www.tudorsociety.com/william-shakespeares-grave-holy-trinity-church/ and Tudor Society members can enjoy a talk by Claire Ridgway here.