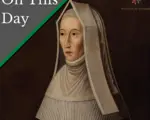 Today is the anniversary of the death of sixty-six-year-old Lady Margaret Beaufort. matriarch of the Tudor dynasty, on 29th June 1509.
She died just four days after she had enjoyed the coronation celebrations of her grandson King Henry VIII and his new bride and queen, Catherine of Aragon.
Margaret Beaufort is surrounded by myth and it seems fashionable to see her as a religious zealot. But who was this influential Tudor lady? What did she do?
[Read More...]