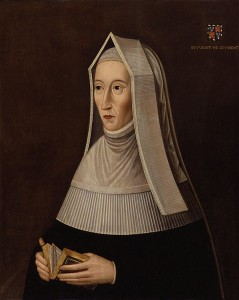 On this day in Tudor history, 31st May 1443, in the reign of King Henry VI, Lady Margaret Beaufort, Countess of Richmond and Derby, and matriarch of the Tudor dynasty, was born at Bletsoe Castle in Bedfordshire.
Margaret was the daughter of John Beaufort, Duke of Somerset, and her paternal great-grandparents were John of Gaunt and Katherine Swynford.
Margaret was married four times: to John de la Pole, 2nd Duke of Suffolk, although Margaret didn't recognise the marriage, and then to Edmund Tudor, Earl of Richmond; Sir Henry Stafford, and Thomas Stanley, 1st Earl of Derby.
Margaret's only child was fathered by Edmund Tudor, son of Owen Tudor and the dowager queen Catherine of Valois. She gave birth to their son, Henry, when she was just 13. Of course, that boy grew up to be Henry VII, the first Tudor monarch.
You can find out more about her by clicking here.
Also on this day in Tudor history...