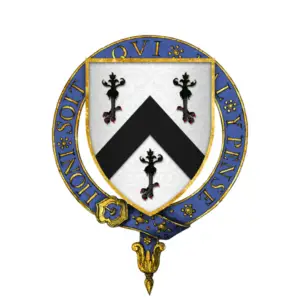 On this day in Tudor history, 5th August 1503, in the reign of King Henry VII, administrator Sir Reynold or Reginald Bray died. He was about sixty-three years of age.
Bray started his career in the household of Lady Margaret Beaufort, when she was married to Sir Henry Stafford, and was still serving her 20 years later when her son became king.
He served Henry VII as Chancellor of the Duchy of Lancaster, Treasurer of England and Treasurer for war. He was also a Knight of the Garter.
Some say that Bray was an architect and designed Henry VII's Chapel in Westminster Abbey, St George's Chapel in Windsor Castle, where he is buried, and Great Malvern Priory. He definitely funded their building.
At his death in 1503, Bray was still working as Margaret Beaufort's receiver-general.
Also on this day in Tudor history...
Image: Coat of arms of Sir Reginald Bray, KG. Arms of Bray: Argent, a chevron between three eagle's legs erased sable, by Rs-nourse, Wikimedia Commons.