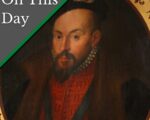 On this day in Tudor history, 21st July, 1553, two days after Mary I had been proclaimed queen, John Dudley, Duke of Northumberland was arrested near Cambridge.
This was just days after Northumberland had left London with an army to apprehend Mary, on behalf of his daughter-in-law, Queen Jane (Lady Jane Grey).
But how and why did the man who had ruled England on Edward VI's behalf, as Lord President of his privy council, come to this?
I explain his role in the accession of Lady Jane Grey in July 1553 and what happened when Mary overthrew Queen Jane…
[Read More...]