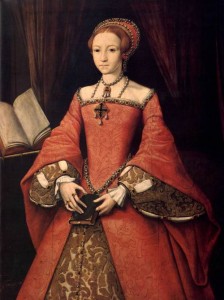 On this day in history, 30th July 1553, Mary I's half-sister Elizabeth left her new home, Somerset House, to ride to Wanstead and greet Mary, who had been proclaimed queen on 19th July 1553 in place of Queen Jane.
Elizabeth had been at her estate at Hatfield when she heard the news that Mary was queen and so had departed for London, entering the city on 29th July through Fleet Street. She had made her way to her new townhouse, or rather palace, Somerset House, a house just off The Strand, on the north bank of the River Thames.
The contemporary source, The chronicle of Queen Jane, and of two years of Queen Mary, and especially of the rebellion of Sir Thomas Wyat, states:
"The lady Elizabethes grace came the 29. of July to Somerset place, well accompanyed with gentlemen, and others, righte strongly, and theare she rested a nighte, and the morowe ensuinge she went throwghe Cheapside to meete the queenes grace to London-wardes, who is loked for the 3. or 4. of Auguste."
Chronicler and Windsor Herald Charles Wriothesley backs this up:
"The 30 July Lady Elizabethes grace, sister to the Quenes Highnes, rode from hir place at Strand, where she had lyen the night afore, through the Citie of London at xii of the clocke in the forenone, beinge Sonday, and rode out at Algate toward the Quenes Highnes, accompanyed with a M horses of gentlemen, knightes, ladyes, and their servauntes."
Elizabeth met up with Mary at Wanstead on Wednesday 2nd August 1553
Somerset House was the former home of Edward Seymour, 1st Duke of Somerset and former Lord Protector in Edward VI's reign. After Somerset's fall and subsequent execution in 1552, John Dudley, Earl of Northumberland and new leader of Edward VI's Regency Council, offered Somerset House to Elizabeth in return for her acquiescence to him taking Durham Place, Elizabeth's townhouse. Somerset House had been built by Seymour between 1547 and 1550, using stone scavenged from the charnel house of St Paul's Cathedral. It had cost him £10,000 to build and was built in a Renaissance style.
Even though the house had only been completed in 1550, and Somerset had not exactly used it much, historian David Starkey writes that £900 was spent on preparing the house for its new royal mistress in 1553. Starkey also points out that the keeper of the house was no other than Robert Dudley, Northumberland's son and Elizabeth's childhood friend.
Also on this day in history...
1540 - Catholics Thomas Abell, Edward Powell and Richard Fetherston were hanged, drawn and quartered at Smithfield for refusing to acknowledge the royal supremacy. Also, at Smithfield that day, religious reformers Robert Barnes, William Jerome and Thomas Garrard were burned at the stake for heresy. Read more...
1588 - The day after the Battle of Gravelines and the defeat of the Spanish Armada, the wind changed and the remaining ships of the Spanish Armada were forced northwards and scattered. Read more in our Spanish Armada e-book - click here.
Notes and Sources