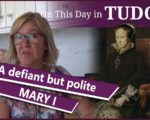 On this day in Tudor history, 19th August 1551, Princess Mary, the future Mary I, wrote to her half-brother King Edward VI regarding orders that he had sent, orders that she was not going to obey.
As historian Henry Ellis noted, this letter is evidence of Mary's talent at writing and her intellect, and it also shows just how stubborn she could be. But then Edward was stubborn too! He wasn't going to let his sister defy him but she wasn't going to obey him and compromise her faith – oh dear!
Find out more about the situation, and hear Mary's words to Edward, in today's talk.
[Read More...]