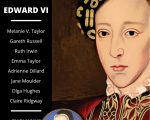 Edward VI never ruled in his own right and so is often neglected. His reign was relatively short, but it was one of huge religious change, and rebellion too!
Back in 2016, we had an issue of Tudor Life Magazine focused on the Tudor boy-king, so I thought I'd dig it out of the archives for you to enjoy now.
Enjoy this 68-page treat!
[Read More...]