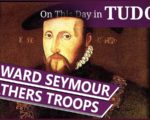 On this day in Tudor history, 5th October 1549, Edward Seymour, Duke of Somerset and Lord Protector, ordered a gathering of men at Hampton Court Palace, where he was lodged with the young King Edward VI, due to tensions mounting between Somerset and John Dudley, Earl of Warwick.
What was going on and what happened when 4,000 peasants turned up? How did John Dudley react and what did King Edward VI have to say about it all?
Find out what happened, and how this led to Somerset's undoing, in today's talk.
[Read More...]