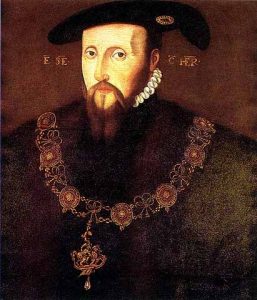 On this day in Tudor history, 22nd May 1537, Edward Seymour, brother of Queen Jane Seymour, was sworn in as a privy councillor.
Edward, who was born in around 1500, had been at court since early adolescence, and he'd risen to become an esquire of the body by 1531.
In 1536, when the king was wooing his sister, Jane, Edward was appointed to the king's privy chamber. Following Henry and Jane's marriage, the rewards came thick and fast - Viscount Beauchamp, governor and captain of Jersey, and chancellor of North Wales. Later offices included Lord High Admiral, Lord Great Chamberlain, Lieutenant of the Kingdom, and Knight of the Garter. Then, in his nephew Edward VI's reign, he became Lord Protector.
Edward Seymour's rise was not to last, though. He fell from power in 1549 and was executed in 1552.
Also on this day in Tudor history...