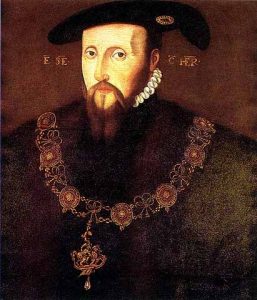 On this day in Tudor history, 8th October 1549, in the reign of King Edward VI, the king's uncle, Edward Seymour, Duke of Somerset and Lord Protector, was proclaimed a traitor by the king's privy council after he'd fled to Windsor Castle with Edward VI and called for troops to defend him and his charge.
Somerset had been acting as Lord Protector since he'd been appointed by the executors of Henry VIII's will on 1st February 1547, three days after Henry VIII's death and the accession of nine-year-old Edward VI. He set about a programme of religious reform with the help of Thomas Cranmer, Archbishop of Canterbury, culminating in the Act of Uniformity, which saw the 1549 Book of Common Prayer become the sole legal form of worship in England.
Opposition to Somerset's religious reforms and other policies led to social unrest, including the 1549 Prayer Book Rebellion and Kett's Rebellion. Both of these were successfully put down, but affected Somerset's standing as a leader, with members of the king's council blaming him.
On 5th October 1549, Somerset issued a proclamation for a general array of troops to gather at Hampton Court Palace for the defence of the realm, or rather the defence of the Lord Protector and his nephew, King Edward VI. This proclamation was due to tensions mounting between Somerset and John Dudley, Earl of Warwick, who had recently defeated Kett's Rebellion and who was now known to be negotiating with Henry Fitzalan, Earl of Arundel, and Thomas Wriothesley, Earl of Southampton. On 6th October, Somerset escorted his nephew the king to Windsor Castle, which was fortified.
Meanwhile, the Earls of Warwick and Southampton and Somerset's other enemies were meeting. They demanded the removal of Somerset as Lord Protector due to his mismanagement. On 10th October, Somerset was ordered from the king's presence, and on 11th October, he was forced to surrender. Somerset was arrested and taken before the king, who summarised the charges against his uncle as "ambition, vainglory, entering into rash wars in mine youth, negligent looking on Newhaven, enriching himself of my treasure, following his own opinion, and doing all by his own authority, etc."
On 13th October 1549, Somerset's protectorate was dissolved and the following day, he was taken to the Tower of London. He confessed to the charges laid against him and on 14th January 1550 his protectorate dissolved by an act of Parliament. He was replaced as leader of Edward VI's government by John Dudley, Earl of Warwick, who became Lord President.
Although Somerset was later released and restored to a position on the king's council, he was arrested again in October 1551 and was executed for treason on 22nd January 1552. You can click here for more resources on Edward Seymour, Duke of Somerset.
Also on this day in Tudor history...