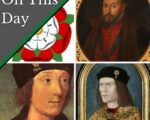 On this day in Tudor history, 22nd August 1553, in the reign of Queen Mary I, John Dudley, Duke of Northumberland, was beheaded on Tower Hill along with his friends and supporters, Sir John Gates and Sir Thomas Palmer.
Northumberland was executed for his part in putting his daughter-in-law, Lady Jane Grey, on the throne.
His execution was actually scheduled for the previous day. The executioner was ready and a crowd had turned up to see him die, but the duke was taken to church instead.
Wny?
Find out, and also hear a contemporary account of the duke's execution…
[Read More...]