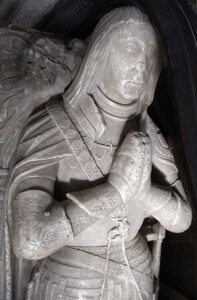 On this day in Tudor history, 28th September 1502, in the reign of King Henry VII, Robert Willoughby, 1st Baron Willoughby de Broke, died at Callington, Cornwall. He was buried at Callington Church.
Willoughby had been in exile in Brittany with Henry Tudor and fought with him at the Battle of Bosworth. He served Henry VII as Lord Steward and was made a Knight of the Garter in 1489.
Here are some more facts about Robert Willoughby:
Robert Willoughby was born in 1452 and was the eldest son of Sir John Willoughby of Clutton, Somerset, an active administrator in the southwest, and his wife, Anne Cheyne, daughter of Sir Edward Cheyne of Broke, Wiltshire, and Ottery, Devon.
In 1470, Willoughby was tasked with arresting a number of rioters and then to array troops in the southwest on behalf of the king to use against George, Duke of Clarence, and the Earl of Warwick, if needed.
In 1472, Willoughby raised troops to go to France.
In 1473, Willoughby was sent to apprehend the Lancastrian John de Vere, Earl of Oxford, who had seized St Michael's Mount in Cornwall.
In around 1475, Willoughby married heiress Blanche Champernowne, daughter of Sir John Champernowne of Bere Ferrers, Devon, and Callington, Cornwall. They had four children, three sons and one daughter.
In 1478-9, he served as sheriff of Cornwall and then of Devon in 1480-1.
In 1483, he was involved in the rebellion of Henry Stafford, 2nd Duke of Buckingham, against King Richard III. Buckingham ended up being executed but Willoughby and his brother William fled to Brittany to join Henry Tudor in exile. He was attainted, though, in his absence, and his estates taken.
In August 1485, he returned to England with Henry Tudor, landing at Mill Bay on the Welsh Pembrokeshire coast. He fought on Henry's side at the Battle of Bosworth on 22nd August 1485.
Following Bosworth, Henry VII sent Willoughby to Sheriff Hutton to take Edward, Earl of Warwick, and Elizabeth of York into custody.
Willoughby was made a Knight of the Body in 1485 and also joined the king's council. He was also made steward of the royal mines in Devon and Cornwall, receiver of the duchy of Cornwall, and steward of the Wiltshire estates that belonged to the Duchess of York.
In 1488, he was made Lord Steward and created a baron. At around this time, he was also elected to the Order of the Garter.
In 1489, Willoughby was sent on an expedition to Brittany with Sir John Cheyne, and in 1490, he commanded a fleet against the French on behalf of the Duchess of Brittany.
In 1492, he was appointed admiral of the fleet that was sent against the French, but, as his biographer Dominic Luckett points out, Willoughby didn't actually command the fleet as he was acting as marshal of the army. Instead, a deputy was sent.
Henry VII rewarded Willoughby for his loyalty and service by granting him land in Somerset and Cornwall, and in 1493, he was granted the joint stewardship of lands in Wiltshire that belonged to the Earls of Warwick and Salisbury.
In 1497, he was tasked with arraying men for the Scottish expedition.
Willoughby died on this day in 1502 and his eldest son, Robert, became 2nd Baron Willoughby de Broke.
Also on this day in Tudor history...
Image: Effigy of Robert Willoughby, 1st Baron Willoughby de Broke, at St Mary's Church, Callington, Cornwall. Photo by Lobsterthermidor, Wikimedia Commons.
Notes and Sources
Luckett, D. (2008, January 03). Willoughby, Robert, first Baron Willoughby de Broke (1452–1502), soldier. Oxford Dictionary of National Biography. https://www.oxforddnb.com/view/10.1093/ref:odnb/9780198614128.001.0001/odnb-9780198614128-e-29602.