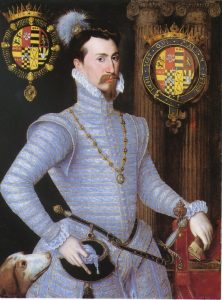 It used to be thought that Robert Dudley, fifth son of the thirteen children of John Dudley, Duke of Northumberland, and Jane Guildford, daughter of Sir Edward Guildford, was born on the same day as Queen Elizabeth I, i.e. 7th September 1533, but it is now believed that he was born on 24th June 1532 or 1533, with 1532 being the most likely.1
Robert received a humanist education and his tutors included the likes of John Dee, Thomas Wilson, Roger Ascham, and Robert's uncle, Sir Francis Jobson, and he was brought up as a Protestant. He could write and speak Italian fluently, had knowledge of French and Latin, and had a keen interest in navigation, engineering and mathematics. He married Amy Robsart, his sweetheart, on the 4th June 1550 in the presence of King Edward VI.
In July 1553, on the death of Edward VI, Lady Jane Grey, wife of Robert's brother, Guildford Dudley, became queen but her reign lasted just thirteen days because Mary I seized the throne. Guildford, Jane and Robert's father, John Dudley, were later executed. Robert was imprisoned and condemned to death but was released in autumn 1554. He served the queen fighting in the Battle of St Quentin in August 1557.
Robert became Elizabeth I's Master of the Horse shortly after her accession in November 1558, and was elected a Knight of the Garter in April 1559. It was rumoured that he and the queen, who he'd known since childhood, were more than friends and there was a scandal when Robert's wife, Amy, died in September 1560. There is still debate today over the nature of Elizabeth and Robert's relationship.
Elizabeth called Robert her "Eyes" and "Sweet Robin", and spoke of making him the "Protector of the Realm" when she believed she was dying from smallpox in October 1562. He went on to become a privy councillor. In 1563, Elizabeth put forward the idea that Robert should marry Mary, Queen of Scots, but this idea came to nothing. Robert was granted Kenilworth Castle in June 1563 and he famously improved it for the queen's visit in 1575, adding a gatehouse, luxury apartments and a beautiful garden. He also held a lavish celebration there which lasted over two weeks and which is seen as a last-ditch attempt to win the queen's hand in marriage.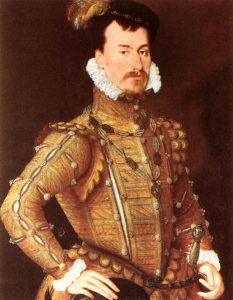 He was descended, on his father's side, from Richard Beauchamp, Earl of Warwick, and so adopted the Bear and Ragged Staff heraldic device of the Earls of Warwick.
Robert had an illegitimate son, Robert Dudley, from his relationship with Lady Douglas Sheffield. This Robert Dudley (1574-1649) became a well-known explorer and cartographer, leading and expedition to the West Indies in 1594.
Robert secretly married Lettice Knollys, daughter of the queen's cousin, Catherine Carey, and Sir Francis Knollys, and widow of Walter Devereux, on 21st September 1578. The queen was furious when she found out and she referred to Lettice as "the she-wolf".
Robert and Lettice had a son, Robert Dudley, Lord Denbigh, who was known as "the noble impe", in 1581 but he died in 1584 and was buried in the Collegiate Church of St Mary, Warwick.
Robert Dudley founded Lord Leycester's Hospital in Warwick in 1571 and this beautiful Tudor building can still be seen in Warwick today. He was made commander of the English forces in the Netherlands in 1585 and when the Spanish Armada threatened England in 1588, Robert was in charge of mustering the English land forces as Lieutenant and Captain General of the Queen's Armies and Companies, and was responsible for Elizabeth's famous visit to Tilbury.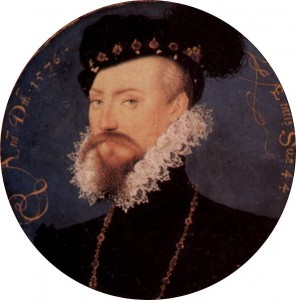 He supported the execution of Mary Queen of Scots in 1587 and financially supported Sir Francis Drake's circumnavigation of the world.
Robert was chancellor of the University of Oxford and was a known patron of the Arts, being interested in theatre, literature and history. He had his own company of players and was the patron of the artist and miniaturist Nicholas Hilliard.
He died at Cornbury Park near Oxford on 4th September 1588 on his way to take the waters at Buxton for his health. Elizabeth I was distraught at the news of Robert's death and locked herself away for days. She kept the last letter he wrote to her shortly before his death, keeping it in a box beside her bed and writing on it "His Last Letter".
Robert Dudley was buried at the Collegiate Church of St Mary in Warwick and shares a tomb there with his wife, Lettice, who died in 1634. His brother, Ambrose Dudley, Earl of Warwick, is also buried there.
Further Reading and Information
Notes and Sources
Pictures: Robert Dudley, formerly attributed to Steven van der Meulen; Robert Dudley, attributed to Steven van der Meulen; miniature of Robert Dudley by Nicholas Hilliard.
Simon Adams in his Oxford DNB biography of Dudley explains "None of the numerous Dudley genealogies supplies dates of birth for their thirteen children, but in a letter to William Cecil, Baron Burghley, in 1587 Robert Dudley mentioned that 24 June was his birthday (CSP for., 1587, 129). A portrait miniature by Nicholas Hilliard dated 1576 (NPG, 4197) gives his age then as forty-four, so 1532 is the most likely year of his birth." Adams, Simon. "Dudley, Robert, earl of Leicester (1532/3–1588)." Simon Adams In Oxford Dictionary of National Biography, edited by H. C. G. Matthew and Brian Harrison. Oxford: OUP, 2004. Online ed., edited by David Cannadine, May 2008.