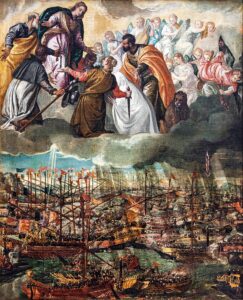 On this day in Tudor history, 7th October 1571, there was a naval battle just off the coast of southwestern Greece in the Mediterranean.
The Battle of Lepanto was fought between the Holy League, Christian forces led by Don Juan of Austria, and the Ottoman Empire, whose fleet were commanded by Uluch Ali, Mohammed Saulak and Ali Pasha.
The Ottomans Turks had been attempting to capture the Venetian ruled island of Cyprus.
The Holy League were victorious, and the Encyclopaedia Britannica says of the Battle, "The battle marked the first significant victory for a Christian naval force over a Turkish fleet and the climax of the age of galley warfare in the Mediterranean."
Click here to read more about the Battle of Lepanto.
Also on this day in Tudor history...
Image: The Allegory of the Battle of Lepanto by Paolo Veronese .