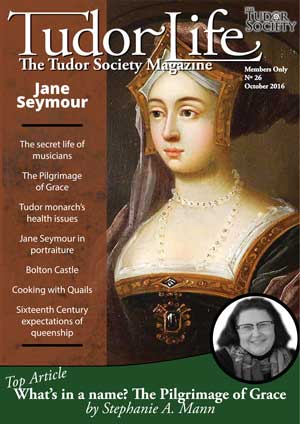 Jane Seymour, the third wife of Henry VIII, is an intriguing character. In this month's Tudor Life magazine our experts examine many interesting aspects of her life.
October is also the month of the Pilgrimage of Grace, so we've focused on some of the events surrounding the most serious rebellion of the Tudor era.
A top quality with 62 pages, this "Jane Seymour" edition will keep all who are interested in Tudor history very happy indeed.
Includes:
The secret life of musicians - Jane Moulder
What's in a name?: The Pilgrimage of Grace - Stephanie A. Mann
Jane Seymour and xixteenth century expectations of queenship - Conor Byrne
The smiling assassin? Modern criticism of Queen Jane Seymour - Gareth Russell
The Tudor monarchs' health issues - Toni Mount
Jane Seymour in portraiture - Melanie V. Taylor
Bolton Castle, Wensleydale: Tudor Places - Jane Moulder
Katherine Howard: The Tragic Story of Henry VIII's Fifth Queen - book review by Charlie Fenton
Quails for the Queen - Olga Hughes
October's on this day in Tudor history - Claire Ridgway
High Quality Download (46Mb)
Smaller Download (5.7Mb)