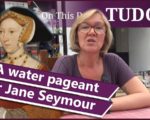 On this day in Tudor history, 7th June 1536, there were celebrations for England's new queen, Jane Seymour, third wife of King Henry VIII.
The celebrations consisted of a river pageant on the River Thames in London, from Greenwich Palace to Whitehall (York Place).
Find out all about this river pageant in today's talk.
[Read More...]