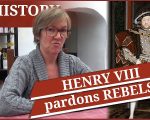 On this day in Tudor history, 3rd December 1536, a proclamation was made to the rebels of the Pilgrimage of Grace offering them a pardon.
Yes, Henry VIII was offering the rebels "free pardons" for their rebellion against him, his advisors and his religious measures.
In today's "on this day in Tudor history", I give a reminder of what the Pilgrimage of Grace rebellion was about and how, even though a free pardon was offered, prominent rebels ended up being executed.
[Read More...]