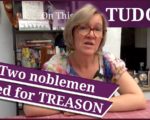 On this day in Tudor history, 15th May 1537, Thomas Darcy, 1st Baron Darcy de Darcy, and his cousin, John Hussey, 1st Baron Hussey of Sleaford, were tried for treason at Westminster after being implicated in the Pilgrimage of Grace rebellion.
Both men may have been sympathetic to the rebel cause, but there was no actual evidence that they conspired against the king. Poor men!
Find out more about them and how they ended up being branded rebels, and what happened next, in today's talk.
[Read More...]