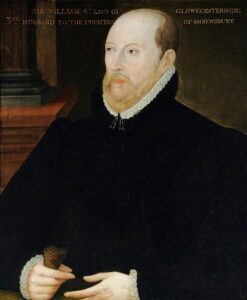 On this day in Tudor history, 14th May 1571, Matthew Stewart, Earl of Lennox and regent to the young King James VI of Scotland, held the "Creeping Parliament" in Edinburgh.
It was called the Creeping parliament because members had to crawl on their hands and knees into the Canongate to avoid being shot by the supporters of the abdicated Mary, Queen of Scots, who held Edinburgh Castle.
Mary's supporters held their own Parliament at the Tollbooth.
Lennox was the king's grandfather and husband of Lady Margaret Douglas. He had become regent in 1570, but his hard line had brought him enemies. In September 1571, another Parliament organised by Lennox gathered in Stirling but he was killed by a single bullet fired by a supporter of Mary.
Also on this day in Tudor history...
Image: Matthew Stewart, Earl of Lennox, English School, National Trust, falsely inscribed as Sir William St Loe, Bess of Hardwick's third husband.