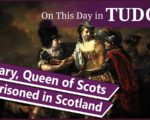 On this day in Tudor history, 17th June 1567, Mary, Queen of Scots, was imprisoned at Loch Leven Castle following her surrender at the Battle of Carberry Hill on 15th June.
Sadly, while she was imprisoned there, she miscarried twins and was forced to abdicate. She eventually escaped, but her freedom was only temporary.
Find out more about this time in Mary, Queen of Scots' life in today's talk.
[Read More...]