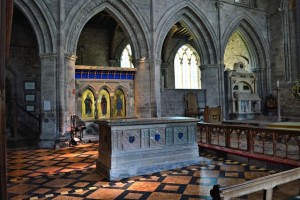 On this day in 1456, Edmund Tudor, 1st Earl of Richmond and father of King Henry VII, died from the plague at Carmarthen Castle in Wales.
Edmund was the eldest son of Owen Tudor and Catherine of Valois (widow of Henry V and mother of Henry VI). He was born around 1430 in Much Hadham, Hertfordshire, and is sometimes known as Edmund of Hadham. Edmund was made Earl of Richmond by his half-brother, Henry VI, on 23rd November 1452 and his brother, Jasper, was made Earl of Pembroke. The brothers were knighted on 5th January 1453 and in March 1453, at the Reading Parliament, they received recognition as the king's true and legitimate brothers.
On 24th March 1453, Henry VI granted the wardship and marriage of ten-year-old Lady Margaret Beaufort, daughter and heir of John Beaufort, Duke of Somerset, and a direct descendant of John of Gaunt, Duke of Lancaster, to Edmund and Jasper. By November 1455, Edmund had married Margaret and had moved to south-west Wales where, by August 1456, after a conflict with Gruffudd ap Nicholas, he had taken control of Carmarthen Castle "and thereby captured the centre of royal government in the region" on behalf of the king. A Yorkist force of 2,000 men led by Sir William Herbert and Sir Walter Devereux then marched on Carmarthen. They successfully seized the castle and Edmund was imprisoned temporarily. He died at Carmarthen from the plague on 1st November 1456 aged about twenty-six. Edmund was buried at the monastery of Greyfriars in Carmarthen, but was moved to St Davids Cathedral on the orders of his grandson, Henry VIII, after the dissolution of the monastery. His elaborate tomb can still be seen today in the middle of the high altar, although his effigy and other decorations were removed during the Civil War in the 17th century. His elegy was written by Lewys Glyn Cothi, the Welsh poet.
Edmund's widow, Margaret, was six months pregnant when he died. She gave birth at her brother-in-law's home of Pembroke Castle on 28th January 1457. The baby was a boy, a son who would become King Henry VII.
Notes and Sources
Picture: The shrine of St David and the tomb of Edmund Tudor, died 1456
cc-by-sa/2.0 - © Philip Pankhurst - geograph.org.uk/p/4585486.
Thomas, R. S.. "Tudor, Edmund, first earl of Richmond (c.1430–1456)." R. S. Thomas In Oxford Dictionary of National Biography, edited by H. C. G. Matthew and Brian Harrison. Oxford: OUP, 2004. Online ed., edited by David Cannadine, January 2008.
Ridgway, Claire (2012) On This Day in Tudor History, MadeGlobal Publishing.