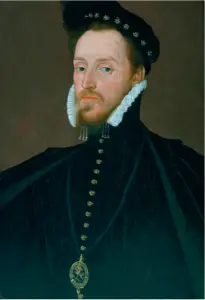 On this day in Tudor history, 4th March 1526, in the reign of King Henry VIII, courtier and administrator, Henry Carey, 1st Baron Hunsdon, was born.
Hunsdon was the only son of Mary Boleyn and her first husband, William Carey, esquire of the body to Henry VIII. There is controversy over his paternity due to Mary Boleyn having a sexual relationship with Henry VIII at some point, but the majority of historians believe that Henry, Mary's second child, was fathered by Carey.
Personally, I think that both Catherine, born in around 1524, and Henry were Carey's children. We don't know when Mary slept with the king and to me it makes more sense that she slept with him while his mistress Elizabeth or Bessie Blount was pregnant in 1519, that would make sense with the king supporting Mary's match with Carey, who was a member of his privy chamber. The king arranged a good match for Bessie Blount when he'd finished with her too.
Here's a video I recorded on Hunsdon, which give details of his background and his rise to prominence at Elizabeth I's court:
Image: Henry Carey, 1st Baron Hunsdon, by Steven van Herwijck.