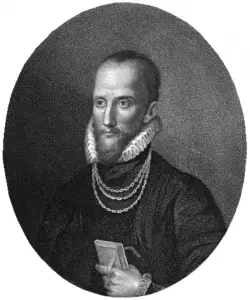 Humphrey Llwyd, antiquary, translator and cartographer was born in 1527 in Denbigh, Wales, as the only child of Robert Lloyd (Llwyd) and Joan Piggott.
After being educated at Oxford (BA and MA), he joined the household of Henry Fitzalan, 12th Earl of Arundel, in 1553. In 1559, he served as a Member of Parliament for East Grinstead and then from 1563-1567 for the Denbigh Boroughs, where he served as an alderman at that time. His position in the earl's household led to Llwyd marrying Barbara Lumley, sister of John Lumley, 1st Baron Lumley, who had married Arundel's eldest daughter, Jane. Llwyd and Barbara went on to have six children. Llwyd is said to have collected books for Lord Lumley.
In 1566 and 1567, Llwyd accompanied Arundel to Italy and it was on their journey home, in Antwerp, that Llywd was introduced to map maker Abraham Ortelius, who sought his advice on a map of Britain and old place names. Llwyd is known for producing the first ever printed map of Wales, Cambriae Typus, which appeared alongside his map of England in 1573 in a supplement to Ortelius's atlas, Theatrum Orbis Terrarum. Llwyd's biographer, R. Brinley Jones, notes that his map of Wales was printed 50 times between 1573 and the publication of George Horn's Accuratissima orbis delineatio in 1741.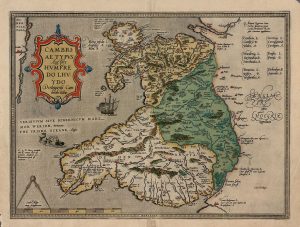 Llwyd served the Earl of Arundel for the rest of his life. He contracted a fever before returning home from his travels on the Continent in 1568. He made a will on 5th August 1568 and died on 21st August 1568. He was buried in the north aisle of St Marcella's (Llanfarchell) Church, which is also known as Whitchurch or Eglwys Wen. A monument in the church depicts Llwyd kneeling at a prayer desk. The desk has a book on it and Llwyd has his sword at his side. The epitaph describes him as "Humfrey Lloid Mr of arte. A famus worthy wight".
Llwyd's motto was Hwy pery klod na golyd, or "Fame lasts longer than wealth".
Llwyd was described by Anthony Wood, the 17th-century antiquary and author of Athenae Oxonienses, as "a person of great eloquence, an excellent rhetorician, a sound philosopher, and almost noted antiquary".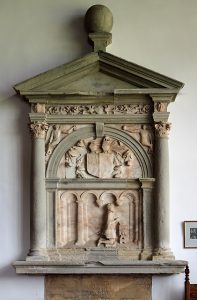 Llwyd's other works include:
An Almanacke and Kalender, conteynynge, the daye houre, and mynute of the change of the Moone for ever, and the sygne that she is in for these thre yeares, with the natures of the sygnes and Planetes
His English translation of De auguriis by Agostino Nifo
His English translation of Brut y tywysogyon, Welsh annales kept since the 8th century, which Llwyd published as Cronica Walliae a Rege Cadwalader ad annum 1294
De Mona Druidium Insulâ... Epistola, a letter to Ortelius which the latter printed in his atlas, Theatrum, in 1570.
Commentarioli Descriptionis Britannicae Fragmentum (1572) - His short geographical and historical description of Britain
An English translation of Caradoc of Llancarvan's chronicle of Wales
A work in Welsh of the pedigree of Foulk Lloyd of Foxhall, his kinsman
A treatise in Welsh on heraldry
Llwyd is covered in John H. Parry's The Cambrian Plutarch: comprising memoirs of some of the most eminent Welshmen, from the earliest times to the present... which can be read online at https://archive.org/stream/cambrianplutarc02parrgoog#page/n5.
Notes and Sources
Pictures: Humphrey Llwyd from The Royal Tribes of Wales (1799) by Philip Yorke; a 1574 version of Humphrey Llwyd's 1573 map of Wales, Cambriae Typus, Wikipedia; St Marcella's church, Denbigh - monument to Humphrey Llwyd, Photo © Mike Searle (cc-by-sa/2.0).
Jones, R. (2014, May 29). Llwyd, Humphrey (1527–1568), antiquary and map maker. Oxford Dictionary of National Biography. Ed.
"LLWYD ( LHUYD ), HUMPHREY ( 1527 - 1568 )", Dictionary of Welsh Biography, http://yba.llgc.org.uk/en/s-LLWY-HUM-1527.html. This describes Llwyd as serving the Earl of Arundel as his physician, but R. Brinley Jones writes of how this tradition is now disputed.