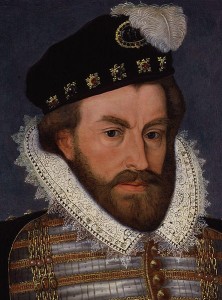 Christopher Hatton was born around 1540 during the reign of Henry VIII. He had a particularly interesting life, originating from a gentry family with few connections to the royal family. He was the second son of William Hatton and his wife, Alice, daughter of Lawrence Saunders. Very little is known of his early life, excepting that his early education is said to have been supervised by his maternal uncle, William Saunders. Regarding his later education, it is recorded that on 26th May 1560 he was enrolled in the Inner Temple. However, this part of Hatton's life is equally as elusive; arguments suggesting that he may have been a barrister. Hatton's fame and position came through the unusual concept, by sixteenth-century standards, of 'social mobility'; essentially rising from one's social class through personal merit and skill rather than relying on nepotism or family wealth. Hatton did this through monopolising on a relationship with Queen Elizabeth I, which shall be the primary focus of this article.
Historians have debated when Hatton became familiar with the queen or her court. Some, such as Wallace T. MacCaffrey, have suggested that it was during the New Year festivities of 1562 at the Inner Temple. It is known that Hatton was enrolled in the Inner Temple in 1560 and therefore may have performed in front of the queen. However, he was still quite unknown to the queen. It was between March and June of 1564 when a royal warrant commanded the issue of a suit of armour for Hatton's use that cements his relationship with the queen. Equally, she sent him to welcome Sir James Melville, the ambassador from Scotland, to escort the latter to the royal presence. These were all highly, and unusual, privileges granted to a man of little position and status. While there is no substantial evidence that Hatton performed in the 1562 revels, he is known to have co-authored the play 'Gismond of Salem', played before the queen in 1566 or 1567. Hatton was known for his impressive performances by this period and participated in the tilts (jousting) celebrating the Earl of Warwick's marriage in 1565 and again on two occasions in 1571, where the other participants were the earls of Leicester and Oxford. What makes this significant is that Hatton was involved in such a high-status and chivalric sport, liaising with members of England's finest noble families and court society.
While cementing his affections with the queen, Hatton also became a part of the enviable ceremonial gift-giving event that took place at court. As historian Maria Hayward has suggested, gift-giving was a means of demonstrating who was in, and who was out, of favour. The queen's gift to him singled out her affection for him in 1572 since he received 400 oz. of silver plate, twice the amount awarded to other dignitaries. Evidently, a personal relationship with the queen, regardless of family background, was the ideal method of self-promotion at the Elizabethan court. Additional to Hatton's rise was his highly charming character; becoming a regular participant in the game of courtly love, a game that Elizabeth advocated and adored at her court. As has been studied by academics, Elizabeth was incredibly vain and enjoyed nothing more than her eligible, and attractive, courtiers swooning over her; whether this be through letters, poems or ballads, Elizabeth enjoyed the unwavering devotion her subjects provided her with. What is unique about Hatton is that, due to his background, he likely had no family ambitions. Therefore, it can be argued that his relationship with the queen was honest. Given that he was from no noble house, the likelihood of him marrying the queen was completely unrealistic. In comparison Robert Dudley was a potential threat, being the son of the Duke of Northumberland and therefore being the offspring of an aristocratic house.
While Hatton was the ideal courtier in terms of revels and entertainments, he also excelled as an astute politician, being appointed to the Privy Chamber and quickly inaugurated into its business during the 1570s. According to historian MacCaffrey, his attendance record equalled that of Lord Burghley, who was the principal secretary and advisor to the queen; known for his letters and meticulous record keeping. Hatton revealed a sense of independent thinking as a result of his involvement in the Anjou marriage negotiations that occurred between the years 1578-82. He became a fervent, and vocal, critic of the marriage, alongside his contemporaries the Earl of Leicester. (Robert Dudley) They both suggested that a life of eternal virginity was more desirable than Elizabeth busying herself with foreign marriages. Equally, there was a concern among the anti-Anjou faction that Elizabeth's marrying of a foreign prince would endanger the country's security. To counter this, Elizabeth's virginity was emphasised in a variety of portraits commissioned around the time of these negotiations. One painting, depicting her as the Vestal Virgin Tuccia, is believed to have been commissioned by Hatton. It depicts Elizabeth with a sieve and a group of courtiers in the background, with one being singled out as Hatton. Historians have argued that he may have commissioned the portrait as a means of opposing the Anjou match, that virginity was more desirable than marriage. While we cannot be sure, Elizabeth being symbolic of eternal virginity became popular during this period, especially among poets, such as Edmund Spenser and Philip Sidney, and artists whom opposed her marrying.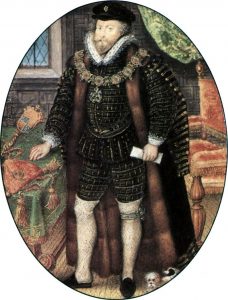 Although the Anjou debate brought Hatton a certain degree of distrust from the queen, with her banishing him for a period, it was not long until he was once again receiving her good favour. He was made Lord Chancellor on 24th April 1587, and in early May rode in state to his inauguration, accompanied by the Earl of Leicester on one side and Lord Burghley on the other. This was an incredibly successful moment in Hatton's career; rising from his elusive younger years at the Inner Temple to one of the highest offices in government. While Hatton was successful, many contemporaries of the period criticised his rise because of his lack of legal experience. As stated earlier, although he was a barrister at the Inner Temple, he had little formal legal experience. Regardless, in 1588, Elizabeth augmented his honours with the Order of the Garter, a noble chivalric order, alongside Oxford University choosing him as chancellor in place of Leicester (Leicester died after the Spanish Armada in 1588). Hatton's chancellorship career saw him acting as commissioner for the trial of Mary, Queen of Scots, a figure whom he greatly opposed. Her Catholicism was a threat to the stability of Elizabeth's Protestant throne, and therefore by default an enemy to the country. Evidently, Hatton was inflectional among courtly society and utilised his personal relationship with Elizabeth to stress his dislike of Mary and advocate her execution, which was later achieved. A miniature portrait of Hatton by Nicholas Hilliard, c.1588-91, reveals the full successes of Hatton's career. It depicts him dressed lavishly with the Order of the Garter around his leg, apparelled in his robes of state. To further support his position his ceremonial mace and seal bag are on the table to his right. Additionally, the dog at Hatton's feet was probably intended as a symbol of loyalty, and it is possible that this miniature was intended for the queen; a symbolic pledge to the Elizabethan throne.
Aside from his political career, Hatton had varied interests. He acquired Corfe Castle in the 1570s and added the keepership of Branksea Castle in Poole Harbour. This gave him admiralty jurisdiction over a stretch of Dorset coast with various privileges. Equally, intent on securing money, he supported Drake's circumnavigation voyage in 1577-1580. His position in power, and relationship with the queen, meant that Hatton spent substantial funds without hesitating. He vainly purchased the residence of the bishops of Ely against their wishes, with Elizabeth giving into his demands, something not unusual for her. Elizabeth would later, during the 1590s, become smitten by the Earl of Essex. Hatton died at Ely Place on 20th November 1591. He was buried on 14th* December of the same year in St Paul's Cathedral, an opulent location for a common-born man. An elaborate monument was erected in the cathedral by his nephew and heir, William Hatton. In a fashion similar to Burghley, Hatton was a self-made man. He fashioned an image of himself as a well-rounded Elizabethan courtier: chivalric, astute, and lucrative.
By Alex Taylor
*An Elizabethan journal (transcribed in The Elizabethan Journals, Volume 1, edited by George Bagshawe Harrison) records the funeral as taking place on 16th December.