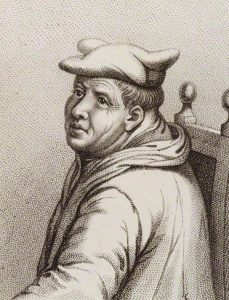 Edmund Bonner, Bishop of London (c. 1500-1569)
Birth: c. 1500
Place of birth: probably Hanley, Worcestershire
Parents: Elizabeth Frodsham, wife of Edmund Bonner, sawyer. However, it was alleged that his father was actually George Savage, rector of Davenham, Cheshire.
Education: Broadgates Hall (now Pembroke College), Oxford, where he studied civil and canon law. In 1526, he received a doctorate in civil law and was admitted to the College of Advocates, London.
Early career: He undertook a diplomatic mission to the Netherlands in 1527; by 1529 he was serving Cardinal Thomas Wolsey as a chaplain; in August 1529, he went to France on a mission for King Henry VIII; in 1530, following Wolsey's fall, he served Thomas Cromwell; in January 1532, he was sent to Rome by the king; in 1536, he was sent to negotiate with the Protestants of Denmark and northern Germany; in 1538, the king sent him to negotiate with the Holy Roman Emperor regarding a general council then he was sent to King Francis I's court in France, where he served until early 1540; in 1538, he was elected Bishop of Hereford; in 1539, he was elected as Bishop of London following the death of John Stokesley; he served as an ambassador to the emperor in Spain and Germany in 1542 and 1543.
Edward VI's reign: Bonner opposed the religious changes implemented by Edward Seymour, Duke of Somerset and Lord Protector, and Archbishop Thomas Cranmer. In 1549, he was committed to Marshalsea Prison and deprived of his bishopric after he had neglected to enforce the Act of Uniformity and Book of Common Prayer, and had preached in support of transubstantiation and had not followed orders to preach in support of the king's authority. He remained imprisoned until Mary I came to the throne.
Mary I's reign: The accession of the Catholic queen, Mary I, led to Bonner's release and restoration as Bishop of London. Bonner set about restoring the old faith in London and in 1555 began his persecution of people he deemed heretics, for which he became known as "Bloody Bonner". His Oxford Dictionary of National Biography biographer, Kenneth Carleton, notes that " Of 282 burnings recorded in episcopal registers for the period, 232 took place in the dioceses of London, Canterbury, Norwich, and Chichester; half the burnings in these four dioceses took place in Bonner's see of London." In 1556, he was involved in the degradation of Archbishop Cranmer.
Elizabeth I's reign: Mary I died on 17th November 1558 and her Protestant half-sister, Elizabeth, became queen. Bonner refused the oath of supremacy in May 1559 and so was deprived of his bishopric. In 1560, he was imprisoned in Marshalsea Prison. In 1564, he once again refused the oath, a capital offence. Bonner escaped death when he argued that the consecration of Bishop Horne, who had tendered the oath was not legal. He spent the rest of his life in prison.
Death: 5 September 1569 in Marshalsea Prison.
Burial: Bonner was buried at St George's, Southwark, but it is thought that his remains were later moved to Copford, near Colchester, a manor held by Bonner as Bishop of London.
Works: Responsum et Exhortatio in laudem Sacerdotii (1553); Articles to be enquired of in the General Visitation of Edmund Bishop of London (1554); and Homelies sette forth by Eddmune Byshop of London, ... to be read within his diocese of London of all Parsons, vycars and curates, unto their parishioners upon Sondayes and holy days (1555), A Profitable and Necessary Doctrine with Certain Homilies Adjoined Thereto (1555).
Legacy: His role in the Marian persecutions was emphasised by the work of martyrologist John Foxe. Kenneth Carleton concludes "He seems to have become more violent as he grew older, perhaps as a result of his harsh confinement in the early 1550s; even so, it is possible that some of his reported excesses of behaviour were intended to frighten heretics into recantation and so to save them from the flames. Although clearly a difficult personality, it is none the less unfortunate that his reputation for cruelty has come to overshadow many years of valued service to both church and state."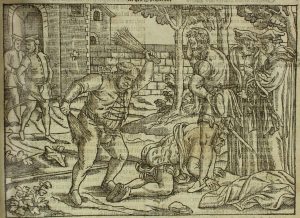 Sources
Pictures: Engraving of Edmund Bonner; picture of Bishop Bonner punishing a heretic from Foxe's Book of Martyrs (1563).
Carleton, K. (2006, May 25). Bonner, Edmund (d. 1569), bishop of London. Oxford Dictionary of National Biography. Ed.