Thank you to Lisa for asking this question. Here is an answer from Conor Byrne...
I think until 1527 Henry VIII may have tentatively regarded his daughter Mary as his heir. Obviously, it's impossible for us to say, but he did appoint her with a council in Wales and she had the same authority and rights that the Prince of Wales traditionally enjoyed, although she was never formally appointed Princess of Wales. I think Henry always hoped for a son, however, and by 1527, as we know, he was set on making a second marriage to secure a legitimate male heir. So perhaps, for the first decade or so of Mary's life, she was tentatively regarded by her father as a possible heir, but I don't think that was the case after the age of 11 or so.
Henry did, however, consider that Mary should be a queen consort. She was betrothed to the French king's son, she was also betrothed to the Emperor, and there were also suggestions that she might marry her cousin James. So she could have been an Empress, she could have been Queen of France, or even Queen of Scotland. But as for queen regnant in her own right, it's less clear what Henry's plans were.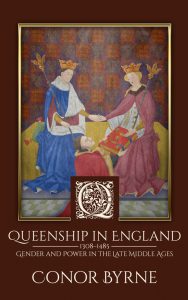 Conor Byrne is the author of Katherine Howard: A New History and Queenship in England: 1308–1485 Gender and Power in the Late Middle Ages. He is a British graduate with a degree in History from the University of Exeter and he is presently studying for a Masters, with Mary I as his dissertation topic. Conor has been fascinated by the Tudors, medieval and early modern history from the age of eleven, particularly the lives of European kings and queens. His research into Katherine Howard, fifth consort of Henry VIII of England, began in 2011-12, and his first extended essay on her, related to the subject of her downfall in 1541-2, was written for an Oxford University competition. Since then Conor has embarked on a full-length study of Queen Katharine's career, encompassing original research and drawing on extended reading into sixteenth-century gender, sexuality and honour. Some of the conclusions reached are controversial and likely to spark considerable debate, but Conor hopes for a thorough reassessment of Katherine Howard's life. Conor runs a historical blog which explores a diverse range of historical topics and issues. He is also interested in modern European, Russian, and African history, and, more broadly, researches the lives of medieval queens, including current research into the defamed 'she-wolf' bride of Edward II, Isabella of France.
If you want to ask a question then go to our Ask the Experts page and fill in your details.