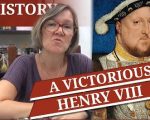 On this day in Tudor history, 18th September 1544, Henry VIII rode triumphantly through the streets of Boulogne after the French surrendered it to him.
This English victory came after the first siege of Boulogne of 1544 which saw the town "sore assaulted and so besieged with such abundance of great ordinance that never was there a more valianter assault made".
The French surrendered Boulogne on 13th September 1544 and King Henry VIII entered it and was given its keys by his good friend, Charles Brandon, Duke of Suffolk, on 18th September. England was victorious but his ally, the Holy Roman Emperor, wasn't behaving himself.
Find out more in today's talk.
[Read More...]