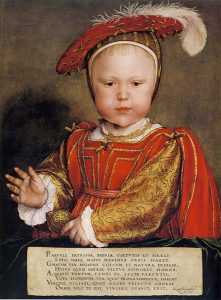 Happy 480th birthday to King Edward VI who was born on this day in history, 12th October 1537. To commemorate his birthday, here is a mini-biography of him plus links to further resources.
Edward VI was born on 12 October 1537 at Hampton Court Palace. He was the son of Henry VIII and his third wife Jane Seymour, who died twelve days after giving birth to him, probably of puerperal fever. He was tutored by scholars such as John Cheke, Richard Cox, Roger Ascham and Jean Belmain, and it appears that he was an intelligent child. By the age of twelve he was undertaking work on religious issues and controversies and had written a treatise about the Pope being the Antichrist.
Henry VIII, died on 28th January 1547, making Edward King Edward VI of England. Edward was only nine years old and far too young to rule over the country himself so a Council of Regency was set up, according to Henry VIII's will. Sixteen executors had been named by Henry to act as a regency council until Edward came of age. The council members had been appointed as equals, but Edward's uncle, Edward Seymour, took the lead and became Lord Protector of the Realm. Seymour was not content with just being Lord Protector, by 1547 he had convinced the young King to sign letters patent giving him the right to appoint members of his choosing to the Privy Council and to only consult them when he himself chose to.
Seymour was a staunch Protestant and so teamed up with Thomas Cranmer, Archbishop of Canterbury, to make the necessary changes to make England a fully Protestant country. His radical reforms, combined with the country's economic problems, led to social unrest in 1548 and 1549, and his council rose against him. Seymour was arrested and by February 1550 John Dudley, Earl of Warwick, was heading the Regency Council. Seymour was later executed for plotting to overthrow Dudley. Although John Dudley did not take on the title of Lord Protector, he was the most important political figure in the country and virtually ruled England.
By the winter of 1552/1553, it was obvious that Edward VI was seriously ill. Fearing the succession of a Catholic monarch who would undo all of the religious reforms of his reign, Edward wrote his "devise for the succession", naming Lady Jane Grey as his heir and removing his half-sisters from the succession. He died on 6 July 1553 at Greenwich Palace. The exact cause of his death is unknown, although theories include tuberculosis and bronchopneumonia.
(Text taken from Illustrated Kings and Queens of England by Claire Ridgway, Tim Ridgway and Verity Ridgway)