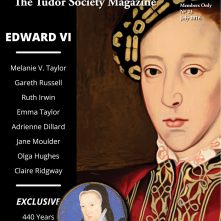 Interested in the life and reign of Edward VI, the boy king? Well, this magazine is just for you. Edward is often overlooked in a study of the Tudor monarchs as his reign was so short and he died so young. What you'll find is that Edward was a fascinating king, with as many facets as the other monarchs. We love Edward VI, and it's clear that the contributors to this magazine love his reign too.
We also have an incredible exclusive article from Melanie V. Taylor about Tudor artist Levina Teerlinc, who died 440 years ago this year. Melanie makes some fascinating claims about an "unknown lady" portrait, and, as always, Melanie is very convincing in her arguments.
A top quality with 68 pages, this Edward VI edition of Tudor Life is an amazing focus on this Tudor monarch.
Includes:
440 years of Levina Teerlinc - Melanie V. Taylor
The cold brilliance of the boy-king - Gareth Russell
The boy-king's influence - Ruth Irwin
The boy-king and costume - Emma Taylor
The birth of the boy-king - Adrienne Dillard
The image of the boy-king - Melanie V. Taylor
The music of the boy-king - Jane Moulder
Historic Rochester - Melanie V. Taylor
Anne Boleyn portrait - Gary Ransom
Setting the sallat: Tudor kitchen - Olga Hughes
The boy-king quiz
Edward IV and Elizabeth Woodville - Book review by Charlie Fenton
On this day in Tudor history - Claire Ridgway
Discover the Mary Rose - Philip Roberts
High Quality Download (89Mb)
Smaller Download (6Mb)