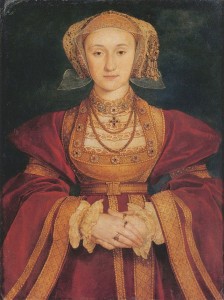 Herzlichen Glückwunsch zum 500ten Geburtstag, Anna! Anna von Kleve, most widely known as Anne of Cleves or Henry VIII's fourth wife, was born on either 201 or 22 September 1515. Anna was born in Düsseldorf, the second daughter out of four children. She lived at her father's court until late 1539, when Anna moved to England to become Henry VIII's fourth queen.
Anna grew up in the court of her father Johann III, duke of Kleve-Jülich-Berg. The lifestyle of a German Renaissance courtier was a bit different from that of his or her English counterpart. Councillors usually began working at the court between 6:00 and 7:00 in the morning, with the majority of workers arriving a bit later than that. A sovereign expected court officials to attend at least one morning service. After attending church, the courtiers partook of "Morgensuppe," or Morning Soup, which was either a glass of beer or wine, depending on one's station. At around 10:00, the main meal of the day was served. This was an affair that went on for around two hours. Most work was done by 12:00 PM, with meetings for the highest officials occasionally called in the afternoons.
Mostly, afternoons were for socializing. Gentlemen would call on the ladies at court, with everyone being under the supervision of the ladies' governess. At around 2:00 PM, a light refreshment or snack was served. Shortly thereafter, supper service would begin. Supper service could go as late as 9:00 PM, when the kitchens and cellars would shut down and courtiers who did not live at the castle would go home. Those courtiers typically kept residences in apartments around the city, and could only abandon those apartments with the permission of the Lord Chamberlain. Given this sort of lifestyle, excessiveness was no stranger to the Germanic court.
Upwards of four hundred people could dine at the prince's table, enjoying between five and nine courses. The number of dishes one could enjoy varied by rank. The annual cost to feed such a crowd was incredibly expensive. All manner of guests, from minstrels to high lords, would be present for such a feast, which could occupy several rooms. Venison and fish dishes would be washed down with wines made with grapes from either the Neckar or Rhine river valleys. Kleve, where Anna's family castle lies, and Düsseldorf, where Anna was born, are located in the Rhine river valley. Often times, poorer folk would be present, in hopes of receiving some of the leftover food. In this time period, the Germanic princes were concerned for the poor and the sick, and there was always enough food left to be given out.
Germanic courts, like English courts, enjoyed the hunt. In fact, it was a great passion of the age and one of the few social events that both royal men and women took part in. The ladies of the court would invite their lords to participate in these lavish events. The hunt occasionally resulted in carnage and destruction of crops, which was a plight on the peasants.
Turning more specifically to what Anna's life could have been like, Germanic princesses enjoyed a more inconspicuous lifestyle. They spent most of the day in a "Frauenzimmer," or Lady's Room, where a princess would be in charge of running and providing all things for her ladies, including cooking in the kitchen. Anna would have learned how to cook, how to repair and embellish expensive clothing, and how to acquire necessary staples for her household. Anna's love of cooking was recorded by the English after her arrival in England. Anna was even known to frequent her well-stocked kitchen in her residence at Dartford. The chronicler Holinshed said that Anna was, "a lady of right commendable regard, courteous, gentle, a good housekeeper and very bountiful to her servants."
The Germanic princesses and noblewomen also competed with each other by sending elaborate gifts to each other, such as impressive pieces of beadwork, jewellery and animals, like exotic birds and horses. Anna, then divorced, gave Henry VIII a pair of beautiful horses with purple velvet trappings as a New Year's gift in 1541; giving such a lovely gift was certainly part of her cultural heritage that Anna brought with her to England.
Education of a young noblewoman would have been in the hands of her governess and thus, each princess's education could differ greatly from another's. Anna was predominantly raised by her mother, a strict Catholic. A governess also controlled how much interaction a noblewoman could have with men, and there was an age limitation for boys serving as pages to noblewomen, with the standard page being no older than twelve years of age. The only male allowed to visit the Lady's Room after formal hours was the court physician.
Securing a good marriage for a noblewoman was of great concern to the Germanic courts. This was a difficult task during the Reformation, when Anna was a young woman. To enter into a formal marriage contract, a lord or prince would occasionally need to secure the blessing of the Holy Roman Emperor, depending on whether or not the Emperor held power over the area at the time. A bridegroom, his attendants, a court official, and the official's councillors would attend a proxy engagement, where the bride's consent was formally given and a legally binding marriage contract entered into. An engagement ring for the bride and wedding gifts for the bride's parents would be given by the groom to the court official, who then delivered the items. Thus, given the high degree of formality in Germanic engagements, it is easy to see why Wilhelm, Anna's brother, took the requests of Henry VIII's ambassadors concerning viewing Anna and meeting her as such an affront and plainly outlandish. Germanic princesses were not directly involved in their own engagements and may not have met their future husbands until the wedding day.
One can see how different Anna's early life would have been from her life in England, and can imagine that Anna may have experienced culture shock upon her arrival in England. Being such an intelligent, capable woman, Anna quickly adapted to her new country and embraced her new life in England, which she lived gracefully and successfully until her death.
You can read another article on Anne of Cleves by Heather over at The Anne Boleyn Files - Anna, Tochter von Kleve.
Notes
Through my research and communications with the Kleve City Archives, we have uncovered a letter from 12 December 1968 from Dr. Gorissen, who was the city archivist from 1955 to 1977. It states Anna's birthday as being 20 September; I am continuing to conduct research on this fascinating woman so that I can discover her true birthday.
Sources and Suggested Reading