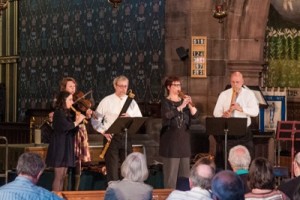 Those of you who live in the UK, or who are visiting the UK this autumn, may be interested in seeing Renaissance music group Piva perform their popular "Measure for Measure" programme. The five members of Piva have a huge knowledge of renaissance music and instruments, and are all multi-instrumentalists - playing up to 40 different instruments at a gig! They really are worth seeing if you can get to any of their performances. While you're there, do make sure you say hello to Piva musician Jane Moulder who writes a regular column for Tudor Life magazine and who is working on a book, Tudor Music: In a Nutshell.
Future dates include appearances at:
Dates will be added to their calendar at http://www.piva.org.uk/calendar.html as bookings are confirmed.