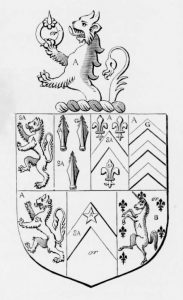 Thank you to Teri Fitgerald for writing this biography of Frances Murfyn, a little know Tudor woman, for us.
Frances Murfyn (c.1519–c.1543) was the daughter of Sir Thomas Murfyn, an alderman and former lord mayor of London, and his second wife Elizabeth Donne, daughter, and heir, of Sir Angel Donne, alderman of London and Anne Hawardine of Cheshire.1,2
Her father died in 1523 and her mother subsequently married Sir Thomas Denys in 1524. Her older sister Mary had married, in 1523, Andrew Judde, a successful merchant and future lord mayor of London. In early 1534, her stepfather successfully negotiated a marriage between Frances and Richard Cromwell (c.1510–1544),3 the nephew of Thomas Cromwell. The couple were married by 8th March 1534 and they would have two sons: Henry (c.1537–1604) and Francis (c.1541–1598).4
From around 1531, Richard Cromwell was in the service of Thomas Cromwell and living in his household until August 1534 when he acquired his own residence in Stepney. (His wife's dowry had included houses in both St. Helens Bishopsgate and Stepney). During these years he shared in many offices and grants with his uncle and was introduced to court. He profited from the Dissolution of the monasteries and was amply rewarded for his role in the suppression of the Pilgrimage of Grace in 1536. Richard chose to establish himself in Huntingdonshire, buying Sawtry abbey from the Crown in 1537 and then adding some of the escheated lands of Lord Hussey and further monastic property, including Ramsey abbey. It was Hinchingbroke priory, which he leased in 1538, that became his family home.5
From 1537, he and his wife participated in court ceremonial: for example, they both took part in the funeral of Queen Jane in November 1537. By 1539, Richard was a gentleman of the privy chamber and in 1540, during the May jousts that were held at Westminster, he was knighted. A favourite of the king and admired for his exploits in the tiltyard, the wealthy Sir Richard was also well-connected: his uncle, already related to the king through his son, Gregory's marriage to the queen's younger sister, Elizabeth Seymour in 1537, was newly-made earl of Essex and lord great chamberlain.6 Sir Richard and his wife survived the earl's sudden fall from power in mid-1540 relatively unscathed. He acquired lucrative posts, continued to accumulate wealth, becoming one of the richest men in England, with holdings in several counties.7
Lady Frances was still living in June 1542, but had died before her husband made his will, which was dated 20 June 1544. Sir Richard died 20th October 1544 at Stepney and was buried at St Helen's Church, Bishopsgate. He was survived by his sons: Henry, aged about seven and Francis, three.8
Notes and Sources
Picture: Arms taken from The visitation of the county of Huntingdon, under the authority of William Camden, Clareneaux king of arms, by his deputy, Nicholas Charles, Lancaster herald, A. D. MDCXIII showing the arms of Richard Cromwell and Frances Murfyn.
The Visitation of the County of Huntingdon, under the authority of William Camden ... by his deputy Nicholas Charles Lancaster Herald, A.D. MDCXIII, ed. Sir Henry Ellis. (Camden Society. Publications 43, 1849). pp. 79-80.
W. R. Drake, Fasciculus Mervinensis, being notes historical, genealogical, and heraldic of the family of Mervyn. (London 1873). App. i, pp. vi-viii.
M. L. Robertson, Thomas Cromwell's servants: the ministerial household in early Tudor government and society [PhD thesis]. (Los Angeles 1975), pp. 474-5.
T. M. Hofmann, "Cromwell, alias Williams, Richard (by 1512-44), of London; Stepney, Mdx. and Hinchingbroke, Hunts.," The History of Parliament: the House of Commons 1509-1558, 1982.
Ibid.
H. Leithead, "Cromwell, Thomas, earl of Essex (b. in or before 1485, d. 1540)," Oxford Dictionary of National Biography, 2004.
T. M. Hofmann, "Cromwell, alias Williams, Richard", Hunts.," The History of Parliament: the House of Commons 1509-1558, 1982.
Ibid.