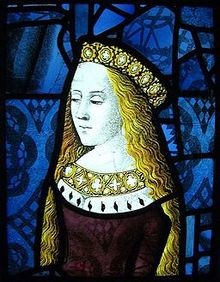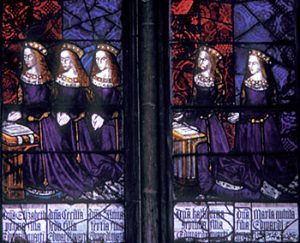 King Edward IV married the Lancastrian widow Elizabeth Wydeville [Woodville] in the spring or summer of 1464. In nineteen years of marriage, Elizabeth gave birth to ten children, seven of whom were daughters. The eldest daughter Elizabeth, born in 1466, remains the most well known in popular and scholarly circles and Edward IV's other four daughters are significantly neglected both in factual and fictional accounts of their lives. The emphasis on Elizabeth and the neglect of her sisters are perhaps understandable, in that Elizabeth married Henry Tudor in 1485 and gave birth to Henry VIII in 1491. A queen of England undoubtedly attracts more attention than a countess or viscountess. Yet the lives of Elizabeth of York's younger sisters are interesting in shedding light on the marriage policies of the houses of York and Tudor in an era of intermittent dynastic and political conflict. They also illuminate the contrasting fortunes of members of a side-lined royal dynasty.
Katherine of York was the second youngest daughter of Edward IV and Elizabeth Wydeville. She was born on 14 August 1479 at Eltham Palace. As a younger daughter of the English king, Katherine would have grown up in the expectation of a spectacular marriage to a foreign prince or nobleman. During her youth, she was proposed as a bride for Juan of Castile, the heir of the 'Catholic kings' Ferdinand and Isabella. Interestingly, Juan's youngest sister Katherine would marry Katherine of York's nephews Arthur Tudor in 1501 and Henry VIII in 1509. But, in the 1480s, that lay a long way in the future, and Katherine of York may have been hopeful that the Castilian prince would be her husband. It would have been a magnificent union had the mooted York-Castilian marriage taken place, and Katherine would one day have reigned as queen of Castile and Aragon. The unexpected death of Katherine's father in 1483, when she was not yet four years of age, prevented the Castilian alliance from coming to fruition. The house of York was plunged into a dynastic crisis shortly afterwards when Richard of Gloucester seized the throne from Katherine's brother Edward V. During Richard III's ill-fated reign, Katherine resided with her mother and sisters in sanctuary at Westminster, but in 1484 Elizabeth Wydeville agreed a truce with the king in which Richard promised to provide honourable marriages for the Yorkist princesses to 'gentlemen born'. He also swore that the former queen's daughters would not be harmed or molested. Katherine's eldest sister Elizabeth subsequently attended court, but it is unclear whether Katherine herself did so; given her young age, it is more likely that she resided at the Yorkist residence of Sheriff Hutton in Yorkshire. It may have been there that she learned of her uncle's defeat and death at Bosworth on 22 August 1485 at the hands of Henry Tudor, who was subsequently proclaimed as Henry VII.
Henry's marriage to Elizabeth of York took place in January 1486, and the couple's first child, Arthur, was born on 20 September in Winchester. The seven-year-old Katherine probably resided at court after her sister's marriage to Henry VII, although her youthful status meant that she was not immediately appointed to the queen's household. Despite the Tudor triumph at Bosworth, however, the house of York remained dynastically and politically important, and Henry VII was fully aware of this, as can be discerned in his decisions regarding the marriages of his wife's sisters.
In 1486, an Anglo-Scottish truce was agreed in which Henry VII and James III of Scotland confirmed that the Scottish king's heir would marry a daughter of Edward IV. Katie Stevenson has suggested that 'this was a way of ensuring ties by marriage to the successful Stewart dynasty.' In November 1487, a marriage contract was drawn up for the union of Katherine of York and James, Duke of Ross. The duke was aged eleven years old at the time and was three years Katherine's senior. As with the Castile alliance, however, the Scottish proposal came to nothing, probably due to James III's death in 1488. Instead, the Tudor king arranged for Katherine to marry William Courtenay, later earl of Devon. Perhaps in the autumn of 1495, when she was sixteen years old, Katherine married Courtenay. The chronicler Edward Hall praised Courtenay's 'nobility, estimation and virtue', and the Courtenay family were known to be loyal to the Lancastrian cause. The couple had three known children in sixteen years of marriage: Henry (who was executed in 1539 for his alleged involvement in the Exeter Conspiracy), Edward and Margaret. They perhaps resided at the Courtenay family seat at Tiverton Castle in Devon.
In 1500, Katherine and her husband were invited by the king to attend court. They were residing at their home in Warwick Lane that autumn, but seem to have attended court regularly afterwards. Alison Weir speculated that the queen 'must have been pleased to have her sister near at hand', but there is no extant evidence concerning relations between Elizabeth and Katherine. It is, of course, possible that the countess's close involvement in her sister's funeral in 1503 reflected the closeness between sisters, but Katherine's status as the most nobly married of the Yorkist sisters – Cecily, for example, was a viscountess – may have led to her appointment as chief mourner. As the sister of an English queen and the daughter of an English king, Katherine featured in major court ceremonies during the reign of Henry VII. In 1501, Katherine attended the wedding of her nephew Arthur, Prince of Wales, at St. Paul's Cathedral.
The extent to which Katherine and her husband continued to sympathise with the dynastic pretensions of the house of York remains unknown, but in 1504 Courtenay was charged with treason as a result of his involvement with Edmund de la Pole, Earl (formerly Duke) of Suffolk. The earl was a nephew of Edward IV and Richard III and was regarded by Yorkist loyalists as a claimant to the throne. Courtenay was attainted and incarcerated in the Tower of London for his treasonous actions, although he was subsequently released in the reign of Henry VIII. Courtenay was pardoned and was restored to his rights and privileges, and in May 1511 he was restored to the earldom of Devon.
Unfortunately for Courtenay, however, he did not long enjoy the earldom, for he died on 9 June. Courtenay's son Henry subsequently inherited the earldom.
The month after her husband's death, Katherine took a vow of celibacy in the presence of the Bishop of London; evidently, she had no wish to remarry. She continued to spend time at court and was honoured as godmother to the king's daughter Mary, born in 1516. Katherine died on 3 December 1527, at the age of forty-eight, and was buried at St Peter's Church, Tiverton.
Conor Byrne studied at the universities of Exeter and York. He specialises in late medieval and early modern English history, with an emphasis on royal history, gender relations and Tudor queenship. His first book, Katherine Howard: A New History (2014) was published by MadeGlobal and has been described as 'a brilliant study', 'a new and refreshing biography of Katherine Howard' and 'a timely addition to Tudor scholarship'. Conor's second book Queenship in England (2017) was also published by MadeGlobal and provides an in-depth analysis of fourteenth- and fifteenth-century queenship. He runs an active Facebook page at www.facebook.com/ConorByrneHistorian.
Picture: The five daughters of King Edward IV (1461–1483) and Elizabeth Woodville, (left to right): Elizabeth, Cecily, Anne, Catherine, and Mary, all "Princesses of York". Royal Window, Northwest Transept, Canterbury Cathedral. Wikipedia.