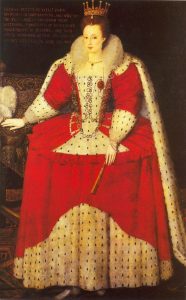 Helena, Lady Gorges, was born in Sweden in 1548 and was the daughter of Ulf Henriksson of Östergötland and his wife, Agneta Knuttson. Before her two marriages, she was known as Helena (Elin) Snakenborg, the surname coming from her mother's family, who came from Mecklenburg. Helena's father was a nobleman of the Bååt family and her mother descended from the earls of Orkney.
In the mid 1560s, Helena was chosen to serve Princess Cecilia of Sweden, Margravine of Baden, daughter of King Gustav I (Gustav Vasa) of Sweden, as a maid of honour. In late 1564, Helena left Sweden to accompany her mistress on a voyage to England to the court of Queen Elizabeth I. Their journey took almost a year due to bad weather and the need to avoid travelling through certain countries. Shortly after her arrival in England, Helena fell in love with William Parr, Marquis of Northampton and brother of Catherine Parr (Henry VIII's sixth wife). When Princess Cecilia left England in 1566, Helena remained in England and joined Elizabeth I's household in around 1567. Helena served Elizabeth I as maid of honour and then gentlewoman of the privy chamber.
William Parr had married Lady Anne Bourchier in 1527, when she was just ten years old, but the marriage was unhappy. Anne had eloped and given birth to an illegitimate child in 1543. The couple separated and Parr was granted a divorce in 1551. The divorce was rescinded in 1553 but recognised by Elizabeth I in her reign. However, his wife was still alive and so Parr did not marry Helena until 1571, after Anne's death. Elizabeth I attended the wedding. Unfortunately, Parr, who was thirty-five years older than his bride, died in October 1571 after just a few months of marriage.
Helena, who was now Marchioness of Northampton, soon fell in love with courtier Thomas Gorges of Wraxall, Somerset. Elizabeth I refused to give consent to the marriage, due to the couple's difference in status, but Helena and Thomas married in secret in around 1576. When the queen found out, she banished Helena from court, although she was later welcomed back, probably due to the intervention of her good friend Thomas Radcliffe, 3rd Earl of Sussex, who served the queen as lord chamberlain. Helena went on to have eight children with Thomas Gorges: Elizabeth (named after her godmother the queen), Francis, Frances, Bridget, Edward (first Baron Gorges of Dundalk), Theobald, Robert and Thomas.
Helena's husband, Thomas, served Elizabeth I as a groom of the privy chamber from 1571, acted as a special ambassador to Sweden in 1582 and was knighted by the queen in 1586. When Elizabeth I died in March 1603, Helena acted as chief mourner at her funeral. The accession of James VI of Scotland as King James I of England brought an end to Helena and Thomas's royal favour and influence. Thomas died on 30th March 1610 and Helena died on 10th April 1635 at the home of her son Robert, in Redlynch, Somerset. She was laid to rest in Salisbury Cathedral on 14th May 1635, the same place as her second husband. Her biographer, Paul Harrington, writes of how at her death Helena had ninety-two direct descendants.
Notes and Sources
Picture: Helena, Marchioness of Northampton, attributed to Robert Peake the Elder.
Harrington, P. (2004-09-23). Gorges [née Snakenborg], Helena, Lady Gorges [other married name Helena Parr, marchioness of Northampton] (1548–1635), courtier. Oxford Dictionary of National Biography.